5 eCommerce Email Marketing Best Practices to Follow
PROCESS - 18 min read
Jul 16,2023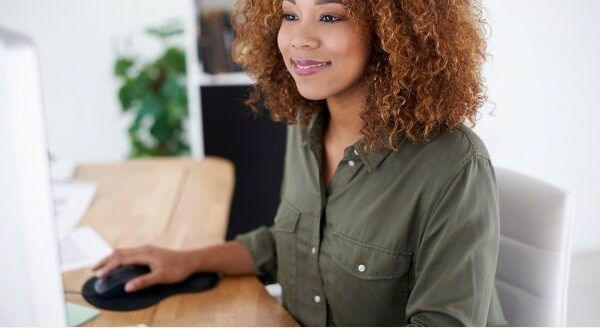 When people hear the words eCommerce marketing, their minds are likely to spring to paid advertisements, showy banners, and social media posts.
Emails, on the other hand, are the unsung heroes of eCommerce marketing—they're often neglected, although they earn $36 for every dollar spent, which beats any other channel.
If you're now thinking that including emails in your eCommerce marketing strategy is a good idea, you're absolutely correct. Still, you have to know what kinds of emails to send out for your strategy to succeed, and this article can help you with that.
We'll go through five vital practices that you have to include in your eCommerce email marketing efforts, and after you implement them, you'll be on your way to engaged customers and increased sales.
Let's start with an action that you have to take before sending the first email, and that's planning and defining goals.
Define Your Goals
If you want an effective eCommerce email marketing campaign, you shouldn't wait for inspiration to strike to compose emails. Instead, each email you send should have its purpose, and you can only do that by defining your goals in advance.
Goals? What goals?
Doesn't every eCommerce marketer have the same goal: to sell as many things as possible?
Of course, running a profitable business is the ultimate goal.
However, you'll have to be more specific if you want to have a basis for relevant, targeted emails. Some of the specific goals can be the following:
Fewer cart abandonments
More subscribers
More repeat purchases
Building customer loyalty
The goal you set will guide your email marketing campaign.
Let's say that you're set on getting more repeat purchases, for example (which you definitely should be, seeing as returning customers spend 67% more than first-time customers).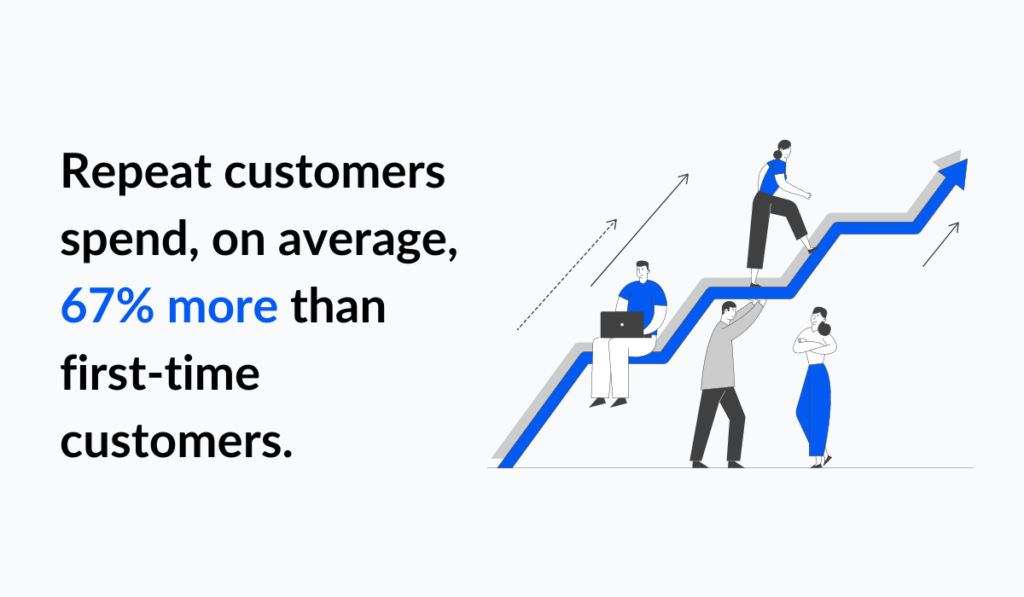 In that case, you'd have to define who your existing customers are in order to tailor emails enticing the customers to buy from you again.
Target personas can help you with this.
Analyzing your current customers' data, including demographics and behavioral identifiers, lets you create customer profiles that you can use for creating repeat-purchase strategies.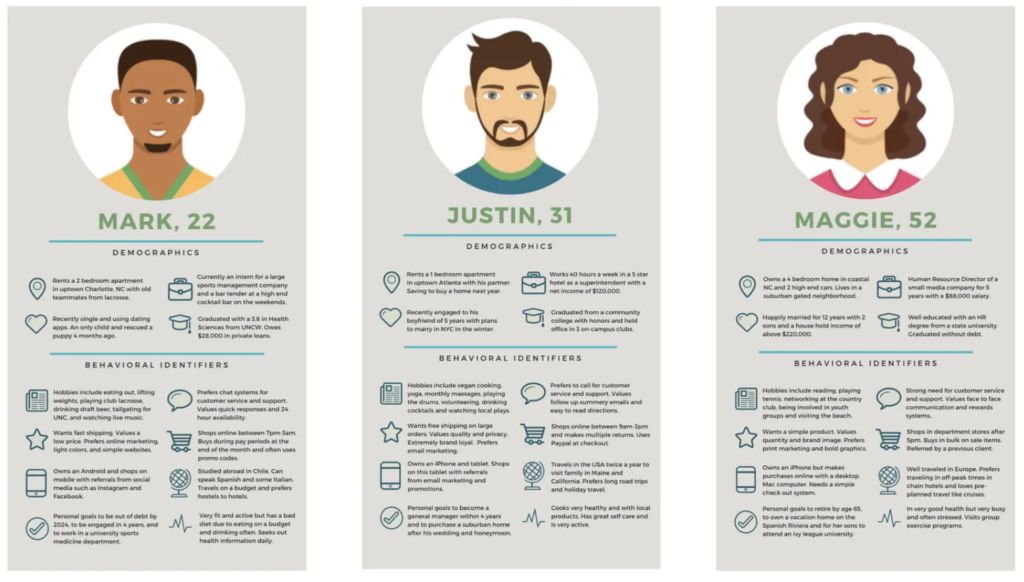 The goal of increasing repeat purchases is just one example of how you can specify your aims, and each eCommerce company should determine the goals that align with its overall business objectives.
Still, each goal that you set has to be measurable because you have to know if your strategy is working and if you want to continue with it.
That's why you should use a capable email marketing tool that lets you inspect the success of your email campaigns and the results that they've produced in terms of sales and revenue.
The reports section in our software, Flashy, allows you to see exactly what the sales performance from your email marketing campaigns was: from total revenues to average revenue per email or campaign sent.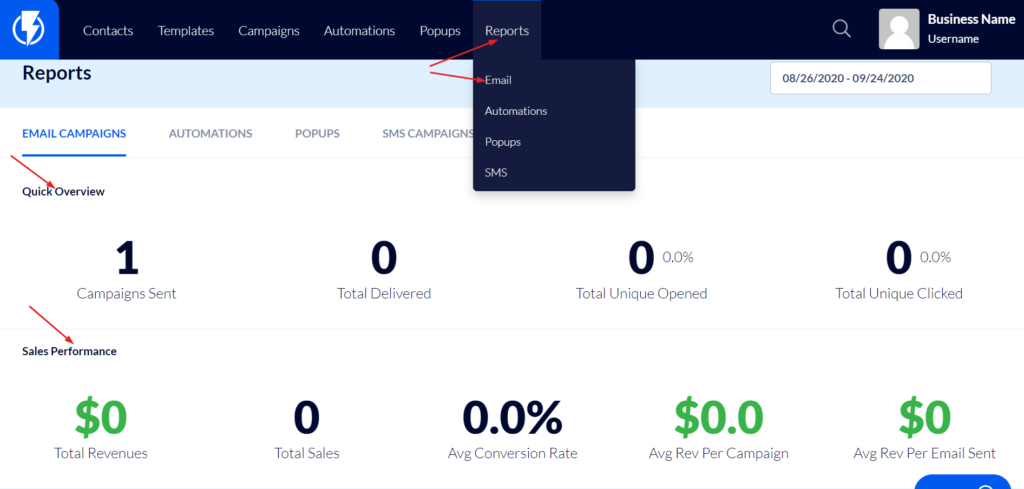 Remember, setting your goals doesn't mean that your job is finished.
A successful eCommerce business regularly reviews its goals for its program, as well as for each email campaign.
So, once you have your email marketing goals laid out, you can start working on methods to reach them, and then you'll be able to see if you need to adjust something in emails along the way.
Personalize Your Emails
Don't you feel special when the barista at your local coffee shop addresses you by your name?
Well, eCommerce customers aren't any different—each person appreciates knowing that they aren't a nameless face in the crowd, but a valued client instead.
To show them that, you should personalize your emails, and you'll achieve stronger customer relationships and increased revenue in return.
The most straightforward way to personalize your emails is by automatically attaching the customer's first name in the greeting or the subject line.
Less is more here—adding the surname could make your emails seem robotic, so it's better to use the first name only.
Below you'll see a successful example written by Froothie, a kitchen appliance seller.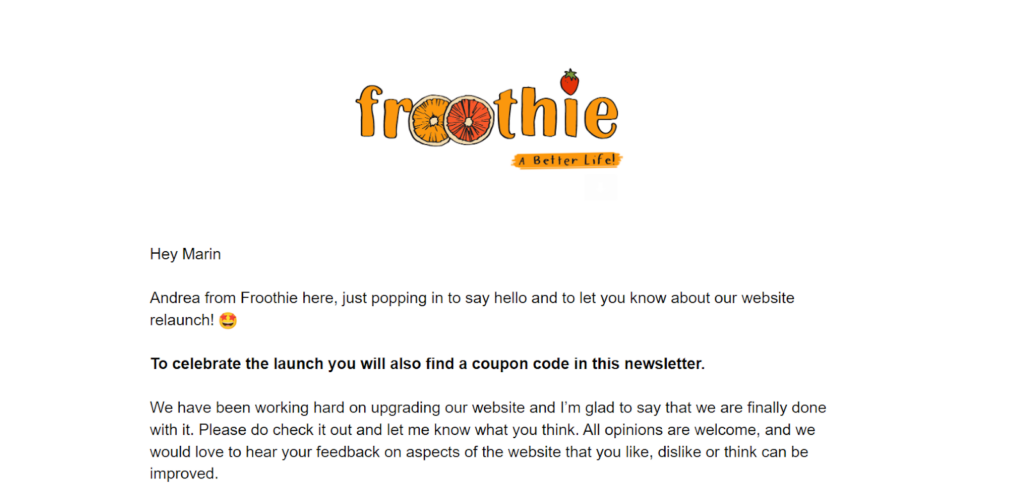 As you can see, Froothie has kept things simple.
You can also see an additional bit of personalization in the introductory sentence, where the person writing the email introduced themselves, making the email friendly and more personable.
But there's so much more you can do.
With the correct software, such as our Flashy, you can keep track of your customers' interests and adjust your emails accordingly.
Because you'll understand your customers better. And when you know your customers better, your emails can really hit the mark and resonate with them.
For example, Flashy can monitor the customers' journey across eCommerce websites.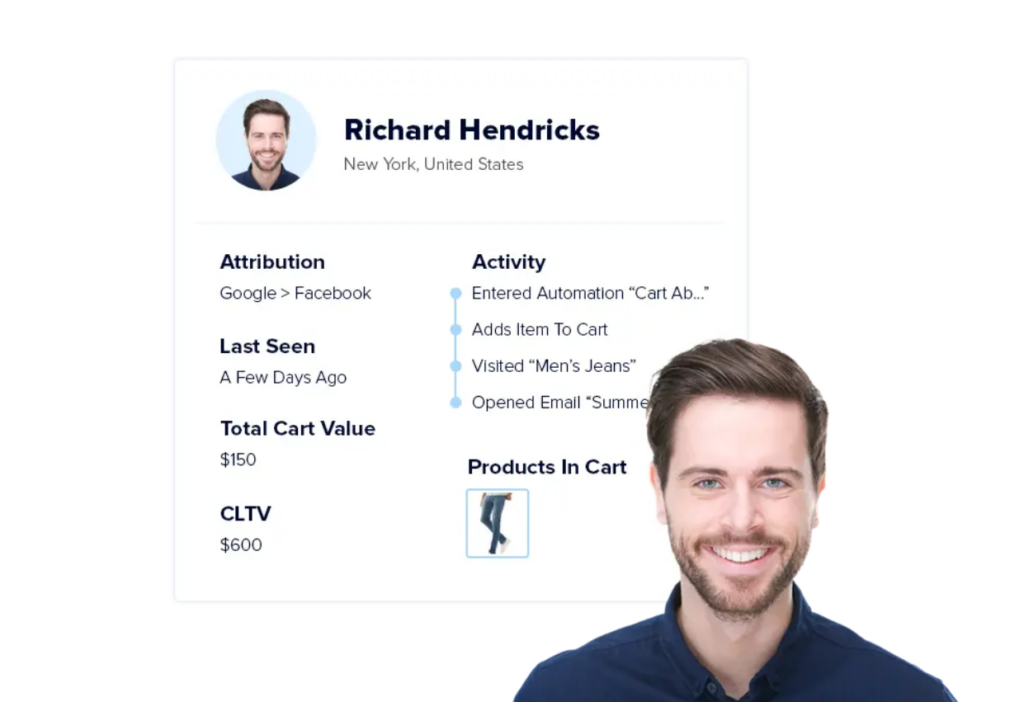 Software users can learn everything about their customer's previous purchases, what products the customer has viewed, what products were added to the cart, the most-visited product categories, and more.
And what happens then?
Based on the customer's behavior, you can then craft and send automatic emails that are hyper-relevant to their purchases and interests.
So, why would your email personalization efforts stop at including the customer's name?
If you have a customer who's already interested in your products, sending personalized emails that are even more precise will nudge them towards purchasing.
Create a Welcome Email Series
First impressions matter more than you might think.
After your eCommerce store has caught your customers' attention, you should seize the opportunity and make an excellent first impression. You can do so with emails welcoming them to your brand.
Here's an example of one such welcome email sent by The Crystal Company.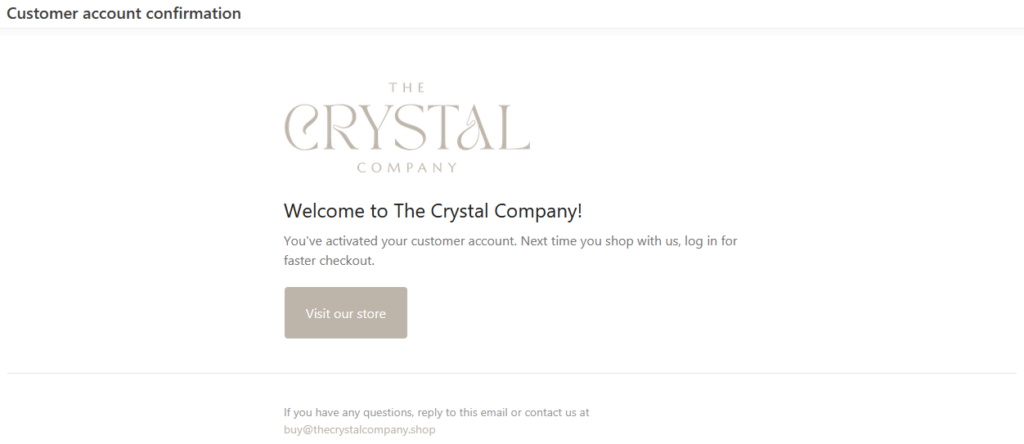 Welcome emails have always been a vital part of marketing strategies, and as of 2023, they're still getting the most attention out of other types of promo emails.
Cynthia Dam, a current Director of Marketing and eCommerce at Inspired Style Group and former Head of Marketing at Hive.co, considers welcome emails to be the ultimate weapon to higher conversion rates.
According to Dam, welcome emails are:
"The one email you should be sending, no matter what."
But do you know what's even better than a welcome email?
A welcome campaign with a series of emails!
Sending multiple welcome emails lets you extend the period of attention that customers give you at the very beginning. In other words, a series of welcome emails gives you additional chances to tell your brand's story and educate the customers about your eCommerce offerings.
The Crystal Company has clearly mastered this marketing skill—the email that we've seen above has been accompanied by the one from the following screenshot.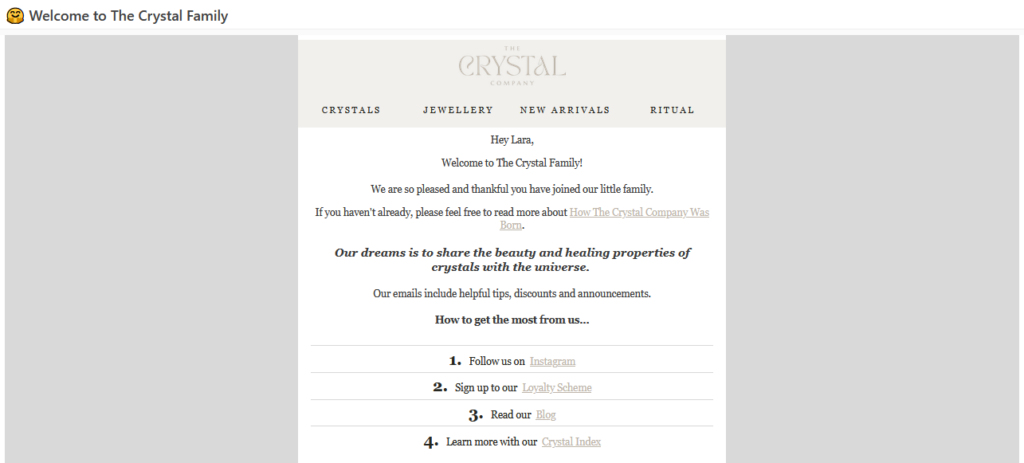 As the screenshot shows, the second welcome email provides links where the customer can learn more about the business and lets them know what they can expect from the following emails.
Using a similar approach, you could connect with your customers and build stronger relationships. You could also include social proof to give your brand more credibility and turn shoppers into true brand followers.
Still, we shouldn't forget that running an eCommerce business is, first and foremost, about generating revenue because, without profit, there is no business.
So, an additional benefit of welcome emails is that they also let you motivate the customers to purchase your products.
Again, The Crystal Company can show us how it's done: the company has sent the third email that contains a "welcome discount".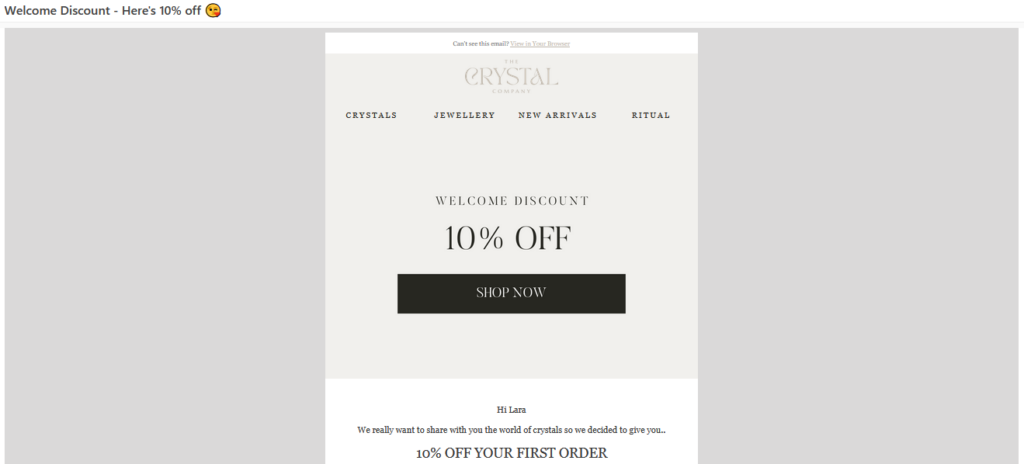 A ten-percent-off discount is not likely to hurt a business, but it does have the potential to incentivize the email recipient to take advantage of the offer.
Lastly, it's worth noting that you should know your limits regarding how many welcome emails you should send.
Nobody wants to receive, say, eight welcome emails, and you don't want to risk coming off as pushy.
A better approach is to settle for two to four emails, each of which brings value to recipients.
Show Appreciation for Your Customers
They say that a happy customer is a loyal customer. And did you know that emails have a significant role in keeping customers happy?
That's right—you can use your eCommerce marketing emails to show the customers that you appreciate them, lifting their spirits and creating positive associations with your brand at the same time.
Your strategy can be as straightforward as sending the customers a thank you note. You could send thank you notes for special occasions, such as birthdays, holidays, or other special dates.
For instance, Prima, a wellness and skincare producer, has emailed its customers a lovely message on the company's first anniversary.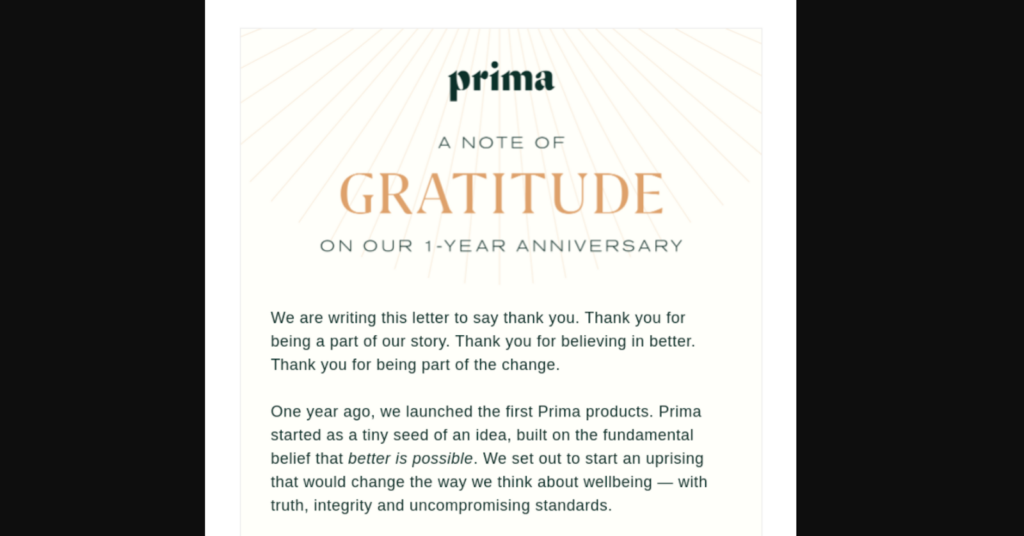 The note of gratitude was even enriched with signatures from C-suite executives, which added an extra touch of acknowledgment.

But you don't even have to wait for a certain date to let the customers know that you appreciate them.
Just like people generally like receiving flowers for no particular reason, they feel good reading they are a valued member of the community.
The next way of showing appreciation is by giving your eCommerce customers something more exclusive. This can be done by sending early access emails to those who have been supporting your business.
When you tell customers that they're among the first ones who can buy new products, you'll also generate a sense of excitement and anticipation.
You can see a successful example of one such email from a personal care company below.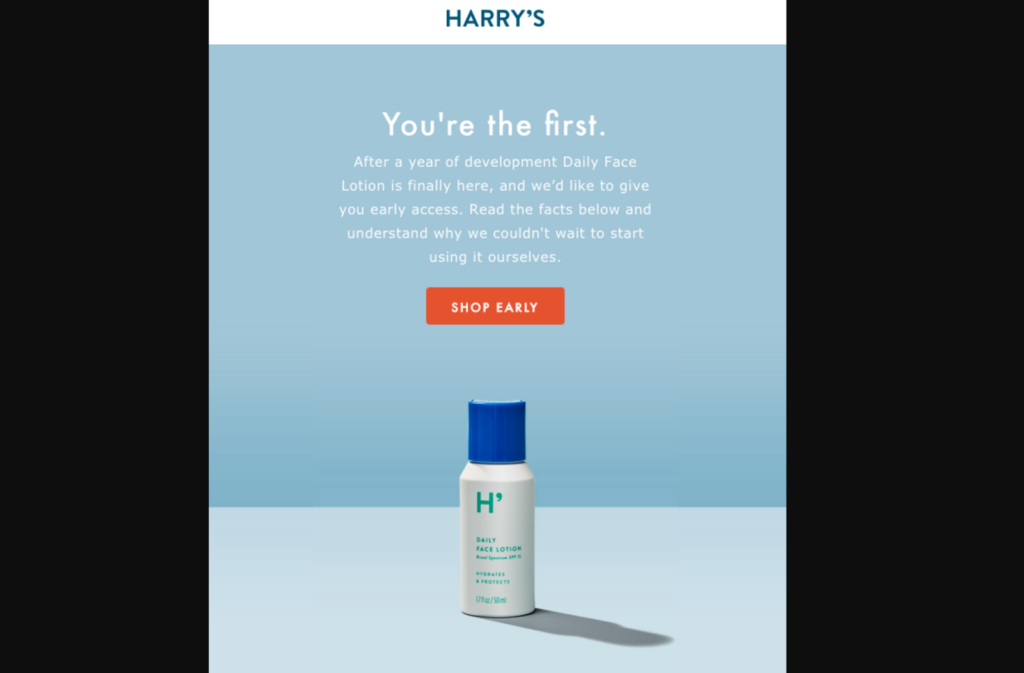 So far, we've seen how eCommerce businesses can use well-written emails to convey messages of appreciation and invest in long-term customer relationships.
But if you want more sales immediately, you'll have to offer tokens of appreciation that are a bit more tangible, such as discounts or vouchers.
Froothie, the appliance seller that we've seen above, has a great approach to this strategy, as you can see in the following email.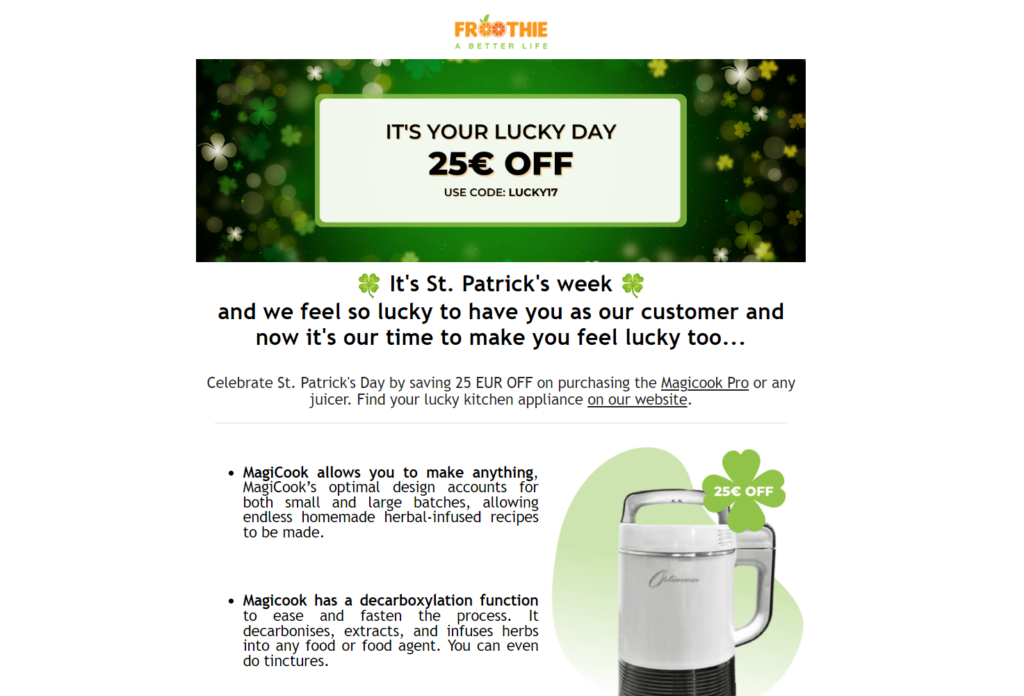 The company has waited for the time of the year when we celebrate luck, and emailed the recipients about how Froothie is lucky to have them as customers—smooth, right?
The same email contained a €25 voucher activated by the provided code.
If there's room in your budget, you could emulate Froothie's approach and email the customers limited-time vouchers, as that increases the odds of them taking you up on the offer.
If that's not the case, don't worry—you can still achieve good results by expressing your gratitude, and fostering a strong emotional connection in the process.
Ask for Feedback
We've started this series of best practices for eCommerce email marketing by stressing the importance of defining goals.
After you've determined your goals and sent marketing emails, it's time to see what your customers think of your efforts, which is yet another thing that you can do with emails.
So, let's see what feedback emails are and how you can utilize them best.
As the term suggests, feedback emails are the emails you send to customers to ask for their opinions and feelings about your store, products, or overall shopping experience.
If you need an example to put things into perspective, take a look at the following email sent by J.Crew, a clothing company.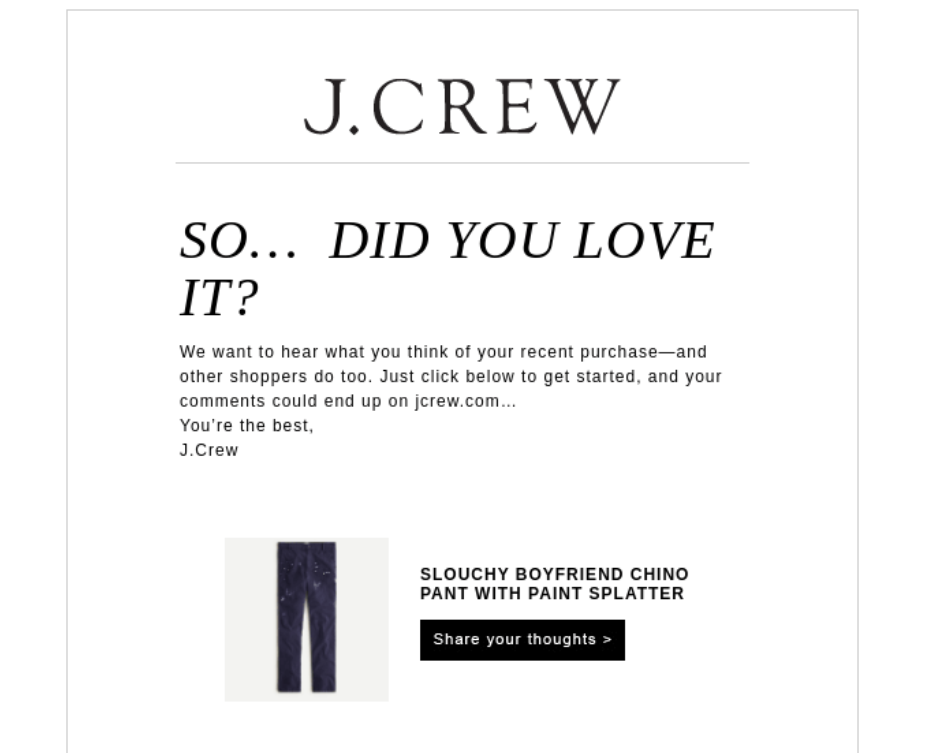 This feedback email is quite straightforward—it asks customers to share their thoughts about their purchase.
Note how the email uses positive language ("Did you love it?") to motivate the customers to answer positively and spare a minute of their time to leave feedback.
That way, companies can learn what their customers do and don't like, what works, and what could be improved about the products.
Seeing as products are only one part of the buyer's experience, you should also ask for feedback about other aspects of your store.
And because 98% of consumers claim that shipping impacts brand loyalty, we suggest that you start with shipping and delivery questions.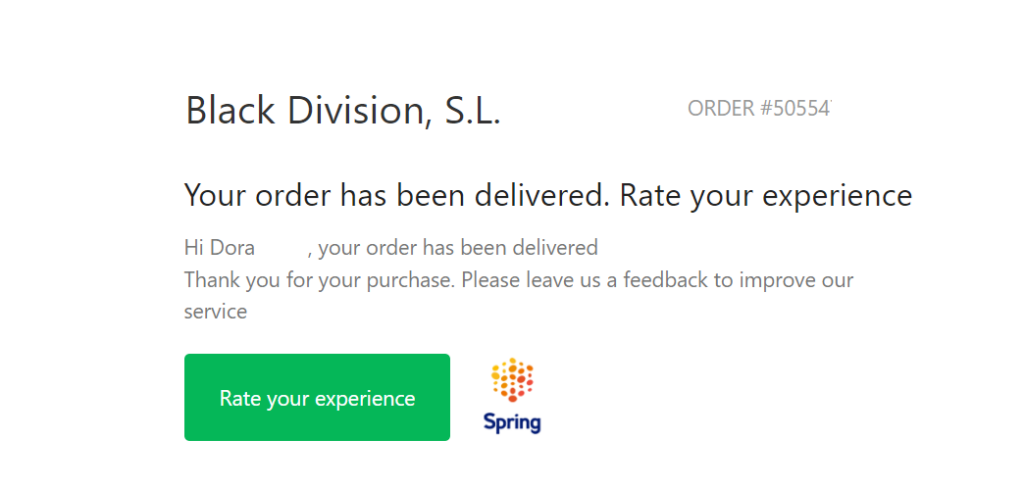 The email above was sent by a clothing company shortly after the customer received the order. It thanks the customer for the purchase and asks them to rate the delivery experience.
Although you can't be completely in control of the delivery processes, you still choose the delivery providers to work with.
And that's where buyer's feedback comes into play.
So, if you notice that customers experience issues with one delivery provider, you can opt for another one. And all of that is possible by emailing customers and asking for feedback!
Of course, if you want the customers to fill out your surveys or leave comments, you have to make it easy for them to share their thoughts.
You'll also see higher response rates if you throw in discounts or loyalty points.
Here's a convenient template that you could use.

Source: Volusion
All in all, feedback emails are a valuable tool for eCommerce businesses to gather insights into how their customers perceive their products and services.
If you're already using emails as a part of your marketing strategy, don't hesitate to ask your customers for feedback and use it to take your eCommerce business to the next level.
Conclusion
Forget about generic marketing emails that don't appeal to the specific needs of your recipients—these won't stand out from the hundreds of emails that people receive every day.
To truly capture the attention of your customers, you have to approach emails with care, and we hope that this article has made that job easier for you.
You've now seen the five essential practices to follow when emailing your eCommerce customers, and if you want to go the extra mile, feel free to explore these six tips that are bound to skyrocket your sales.
We wish you happy emailing and lots of success with your eCommerce shop.
Increase Sales Today
No Credit Card Required. Pre-built Strategy.