Email Campaign Reports Overview
Reports are essential to understanding your customer engagement and improving your marketing. Flashy features information-packed email campaign reports that are clear and easy to navigate. This article provides an overview of the report features.
To get started, go to Reports in your Flashy dashboard at the top of your screen. Click on "Email" in the dropdown menu.
This screen is your center for Email Campaign reports. Select the time period you want to include in your report by adjusting the date range in the upper right-hand corner.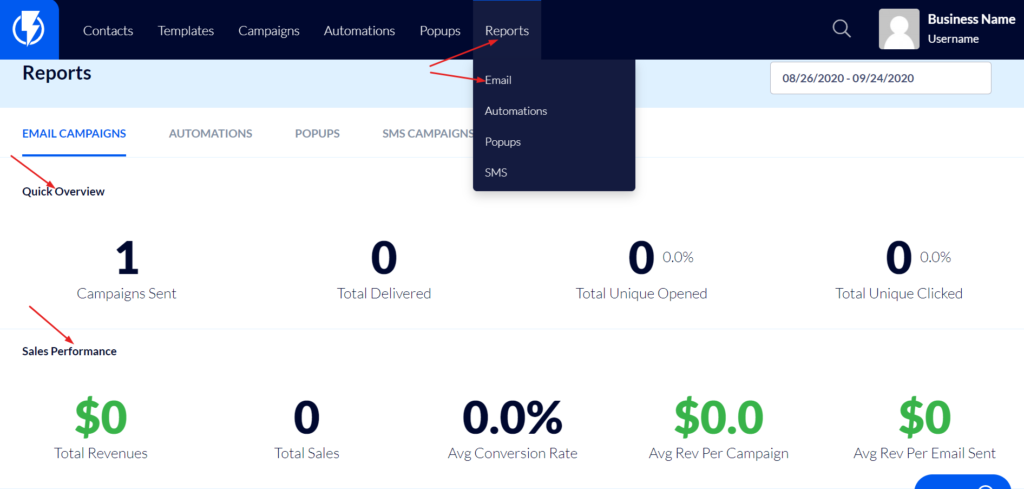 Quick Overview
The Quick Overview includes the numbers on the following categories:
Total Delivered - This is the total number of emails delivered, meaning that the recipients' email servers have accepted the email.
Total Unique Opened - Includes the percentage.
Total Unique Clicked - This number and percentage are calculated based on the number of Total Delivered emails, not the number of emails opened.
Sales Performance
The Sales Performance category displays these numbers:
Average Conversion Rate - Between all the email campaigns
Average Revenue Per Campaign
Average Revenue Per Email Sent - Note that this is per email, not per subscriber.
Campaigns
In the Campaigns section, you can click on individual campaigns to view the numbers and see how each one performed.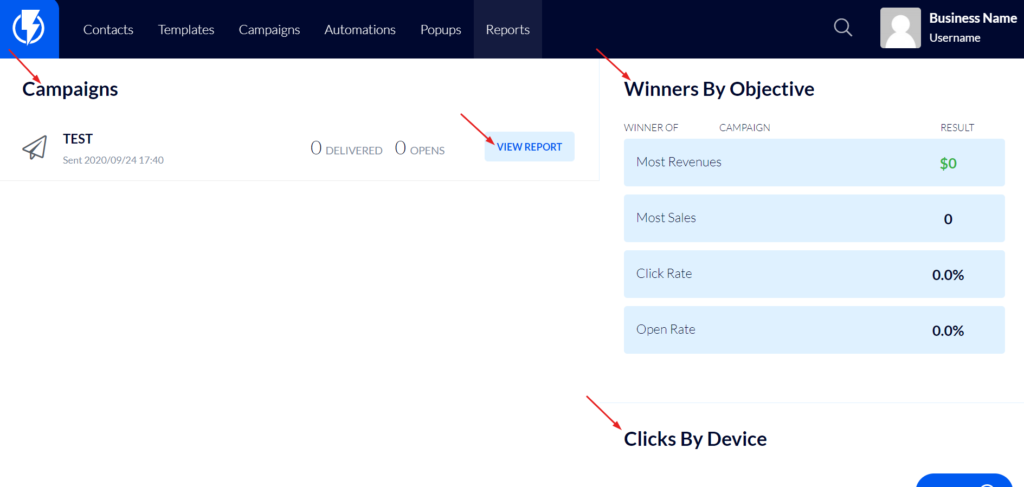 Winners By Objective
Winners By Objective compares your campaigns for you to see which ones performed the best, saving you loads of time and effort! Easily view which campaigns came out on top in terms of revenue, sales, click rate, and open rate. With this information, you can recreate what worked best for future campaigns by focusing on the specific products or offers that were most effective.
Clicks By Device
The Clicks By Device section shows the percentage breakdown of clicks on both mobile and desktop devices. Use this valuable information to improve the funnel based on the devices your customers are using to view your email campaigns.
That's email campaign reports in a nutshell! For more detailed information, please read our article on "Individual Email Campaign Reports."