6 Email Marketing Tips to Skyrocket Your eCommerce Sales
PROCESS - 18 min read
Jul 16,2023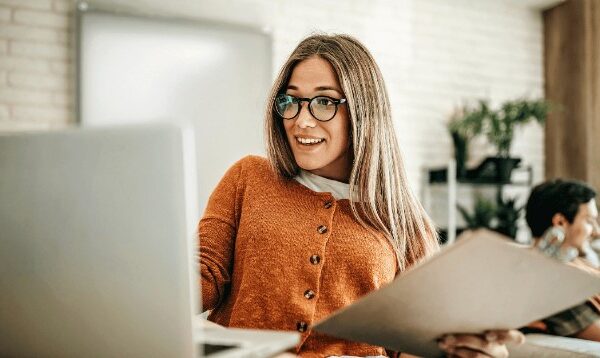 Influencing your customers' buying decisions can be tricky for eCommerce business owners. Your customer base is made up of people from all over the world, and their actions, needs, and desires often stay hidden from you.
However, email marketing has the power to change all of that. It can help you support your customers at every step of their buying journey and close more sales than ever before.
In this article, we'll provide you with six practical, actionable tips to help you skyrocket your eCommerce sales without breaking a sweat.
And it all starts with dividing your audience into segments according to their needs.
Divide Your Email List Into Segments
Dividing your audience into segments is an excellent way of ensuring your email campaigns are always relevant and perfectly matched to the needs of your individual customers.
As a result, your audience will be more likely to have a look at your emails and the offers within, knowing they can expect communications from your company that actually interest them.
This should make sense right off the bat, but it's also supported by marketing research.
The research has shown that segmented email marketing campaigns perform better because they better match customer needs, as you can see in the image below.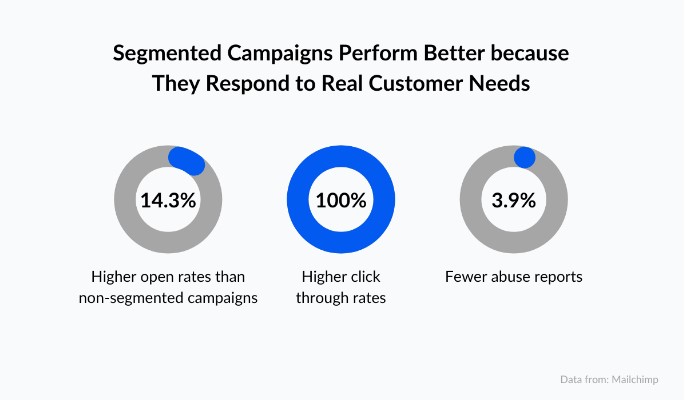 There are many categories your customers can be segmented into. For example, you can use the following criteria:
Demographics and geography
Interests and consumer habits
Buying history in your eCommerce store
But, before you start the segmentation process, you will first have to collect data about your customers to form a basis for segmentation.
If you're using advanced marketing automation software, this data can be collected automatically to build profiles of your customers that can later be divided into audience segments.
The following is a customer profile example.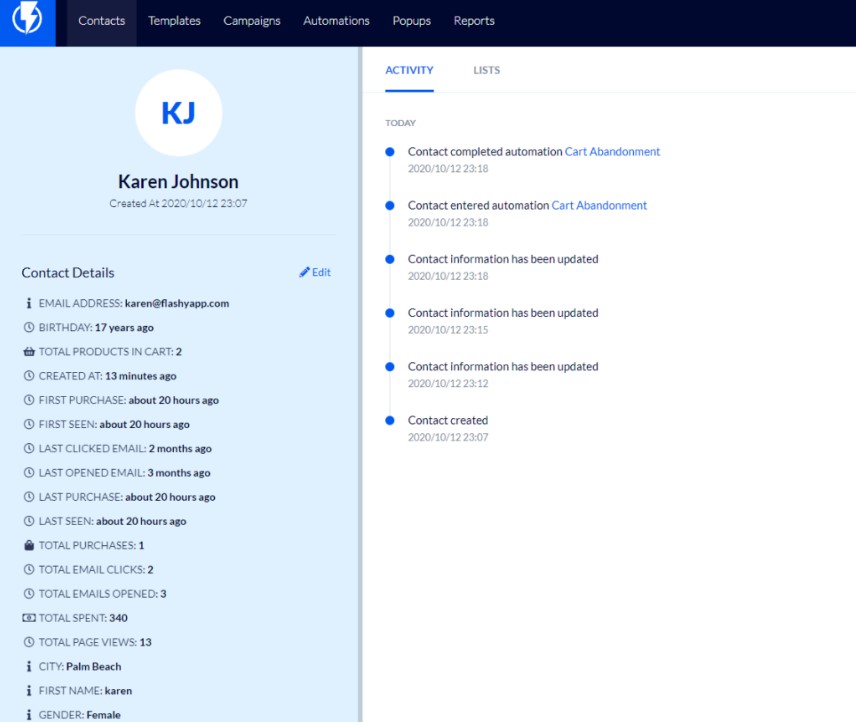 As you can see, the information given here includes biographical data (birthday, gender, location, etc.) as well as intel on this customer's behavior (interaction with your emails, spending habits, site browsing history, etc.).
Once you have this valuable data, it's rather easy to create different audience segments according to the characteristics and habits of your audience members.
For example, your segmentation criteria could be a cart value of more than $100, like pictured below: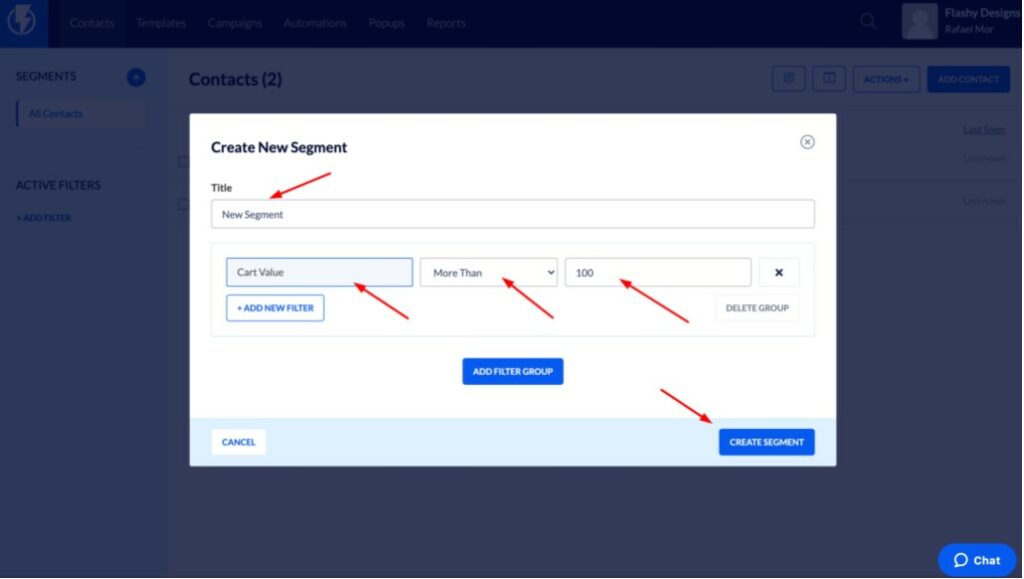 Likewise, you can create an audience segment for prospective customers who have subscribed to your email list in the past 30 days.
Another idea is to segment only those that have made more than three orders.
In that case, your next move might be to create an email campaign that includes a repeat-purchase discount to motivate people in this segment to make another buying decision.
Here's what that might look like: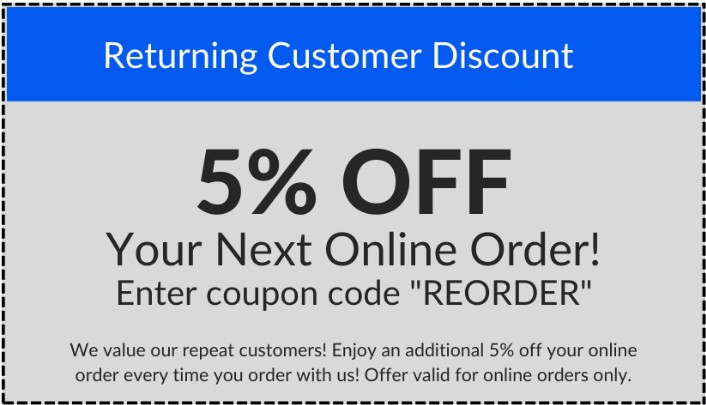 Long story short, segmenting your email list can help you target your customers with highly relevant, perfectly tailored messaging.
This kind of personalization should make it much more likely for your customers to react to your campaigns and take advantage of your offers, increasing your eCommerce sales.
Include Key Information in the Subject Line
Your subject line is what entices and motivates your customers to open your email and read its contents. Therefore, it's extremely important to craft captivating and attractive subject lines while working on your email campaigns.
One practice that might help you here is to include key information about your offer in the subject line so that customers have a clear idea of what awaits them within the email.
This is also supported by research, which has shown that people are more likely to open emails that have specific information included in the subject line, such as numbers or currency values.
You might consider the first finding somewhat surprising, but it's quite logical when you think about it.
When scanning online content (such as their email inbox), people tend to perceive numerals as data or trustworthy facts, which helps them conclude that the contents of the email are factual as well.
So, for example, instead of crafting a subject line that notifies the recipient that your sale is "almost over," try something like this:

Notice that this email also includes the discount percentage, which provides another piece of information for the recipient and makes it more likely they'll open the email and follow your link.
Equally important is the specific information about the contents of this email. Your audience will want to know exactly why you're contacting them.
Is it a sale? Has a new product just arrived? Have they forgotten an item in their cart?
So, instead of obscuring your intent, try to make it as plain as possible, for example:

In the subject line above, it is clear that clearance sale is the topic of the email.
Your customers get plenty of promotional emails in their inboxes. If you want to set your messaging apart, do your best to include key information in the subject line to provide more clarity.
This method has been proven to improve email open rates, so it should also translate into more visits and sales on your eCommerce site.
Have a Clear Call to Action in Each Email
There is a very practical reason why you should always include a clear call to action (CTA) in your eCommerce marketing emails.
Just look at the following example:
Source: Flashy
The "shop now" button from the example above provides a direct path to the eCommerce store, the place where the promises made in the email are finally realized.
Without it, the customer would have a much longer path toward conversion, which provides them with opportunities to change their mind and decide not to shop after all.
In fact, the difference a convenient CTA can make is nothing short of astounding. Just having one CTA button in your email can improve your sales by a whopping 1617%, and your click-through rate by 371%.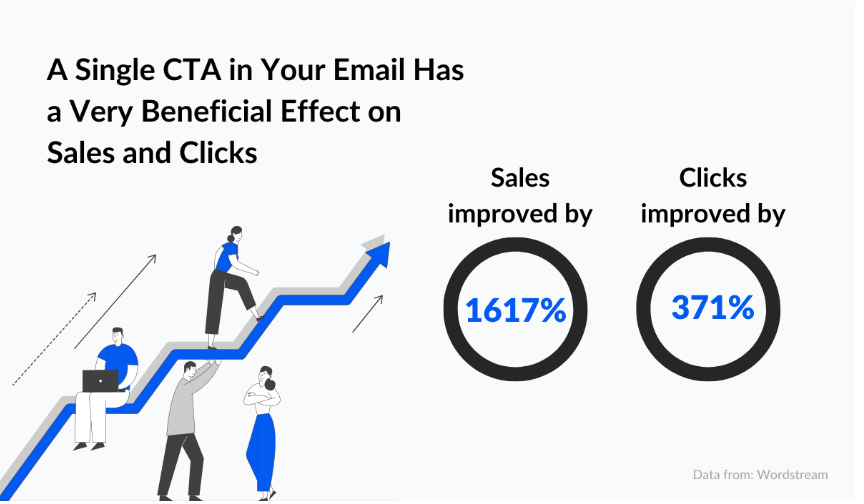 But to take advantage of this benefit, you'll need to have a CTA that's easily noticeable and simple to understand. This is the only way to ensure the customer will see the path you're drawing out for them.
That means having just one CTA per email, placing it in a prominent position, and offsetting it from the rest of the message using a different color or bigger font.
Here's a good example from Nike.
Source: Email Mastery
Note how the CTA is placed in the middle and made to stand out by reversing the colors used in the rest of the email.
The copy of your CTA is equally important. Be sure to use the imperative mood and actionable words ("shop," "buy," "join") that are highly relevant to the conversion you expect from your customer.
This light push might be just what they need to make their next purchase.
As you can see, a clear call to action in your email provides a path for your customer to act in accordance with your goals (closing a sale, for example) and removes any obstacles on that path.
Include it in every one of your emails, and make sure it's highly visible and that it points to a specific action you want your customers to take.
A/B Test Your eCommerce Marketing Emails
In email marketing, as in any other form of communication, there's more than one way to get your message across.
However, one version of your email could achieve better sales results than another, which is why it's a good idea to A/B test your marketing material.
Here's how this process works, in a nutshell: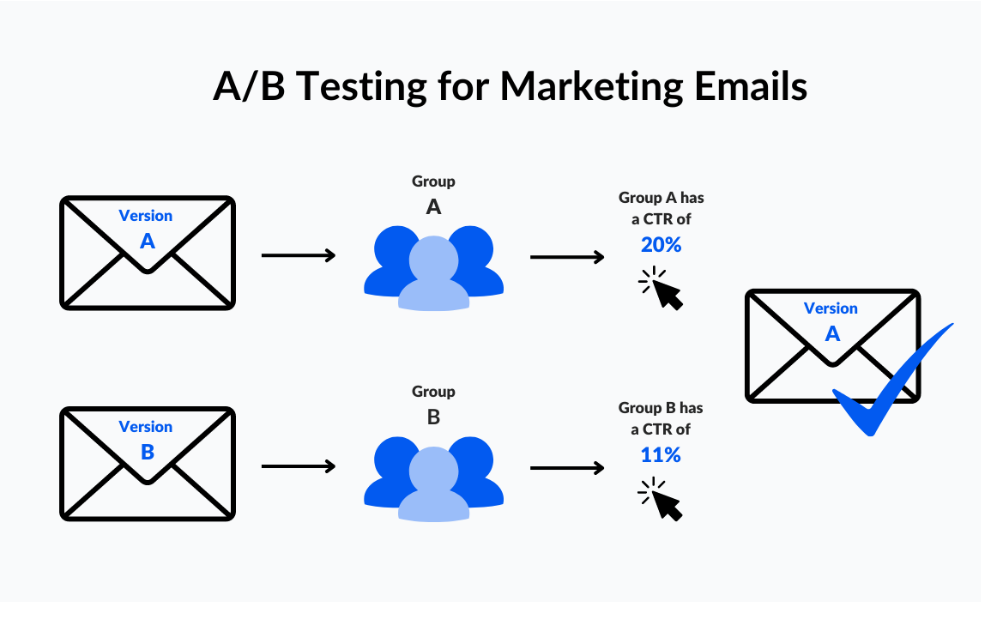 As illustrated above, to A/B test your emails, you'll design two different versions of your marketing email, send them to two groups from your mailing lists, and then monitor their performance.
Once you have confirmation that one version performs better than the other, you can go ahead and send that version to the rest of your mailing list and expect better results.
Now, you don't have to do this with every one of your emails. Instead, it's a good practice to test campaigns occasionally and test just one element at a time to continually learn what works for your audience and what doesn't.
For example, you can test out different versions of your CTA to see which one gets more attention (and higher click rates) from your audience.
One similar, rather famous A/B test tried to find out if audiences would be more likely to click a green or red CTA button, and the results were quite surprising.
It revealed that test subjects were 21% more likely to click on the red button than the green one, which is no small margin.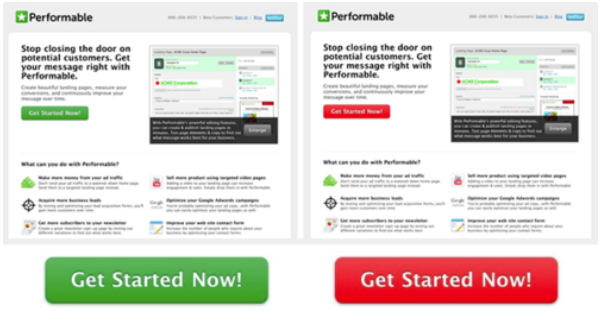 The reason for this difference, or the audience's preference, is still debated, but it does go to show just how powerful A/B testing can be.
Make A/B testing a standard practice for your marketing strategy, and you should see improved sales figures very soon as your emails become more attractive and compelling over time.
Design Your Emails to Be Mobile-Friendly
One fact that every eCommerce business owner and marketer should know is that, as far as technology is concerned, we now live in a mobile-first world.
Consumers use their mobile phones more than other devices to search for and purchase products and services online. Equally important for our discussion, they also predominantly use their phones to read their emails.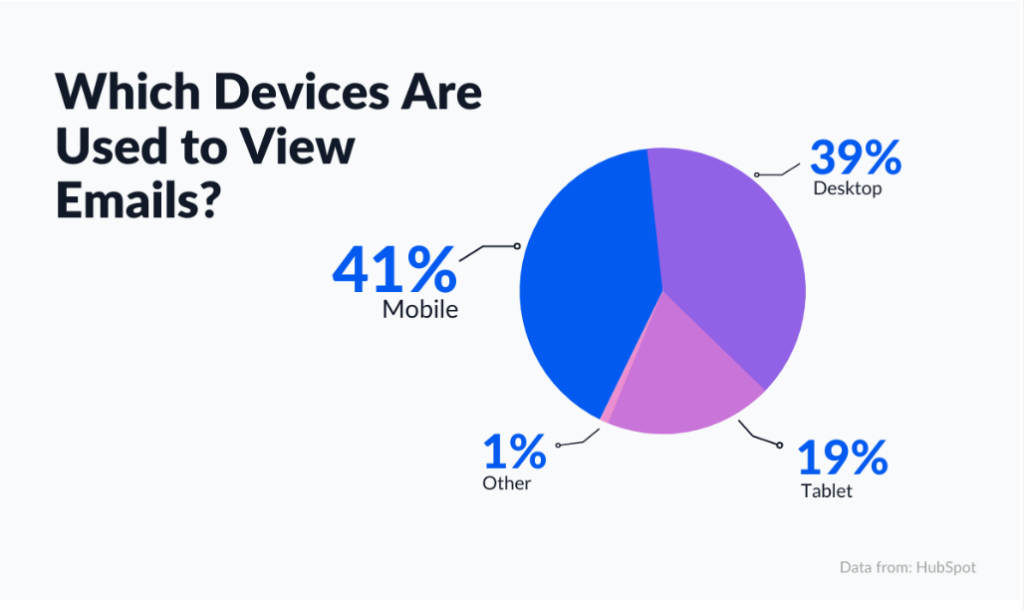 This indicates that adapting your emails to be mobile-friendly should help you better serve your customers and, consequently, improve your business results.
However, have another look at the diagram above and note that desktop isn't that far behind in terms of device use. Adapting your email format entirely to mobile would take away from these users' experience when reading your emails.
So, what can you do?
Well, you can create responsive emails, meaning that they'll automatically adapt to any display they're viewed on.
If you're using an email marketing platform, this should be easy enough to achieve.
This kind of tool can include an email template creator that enables you to create responsive marketing emails.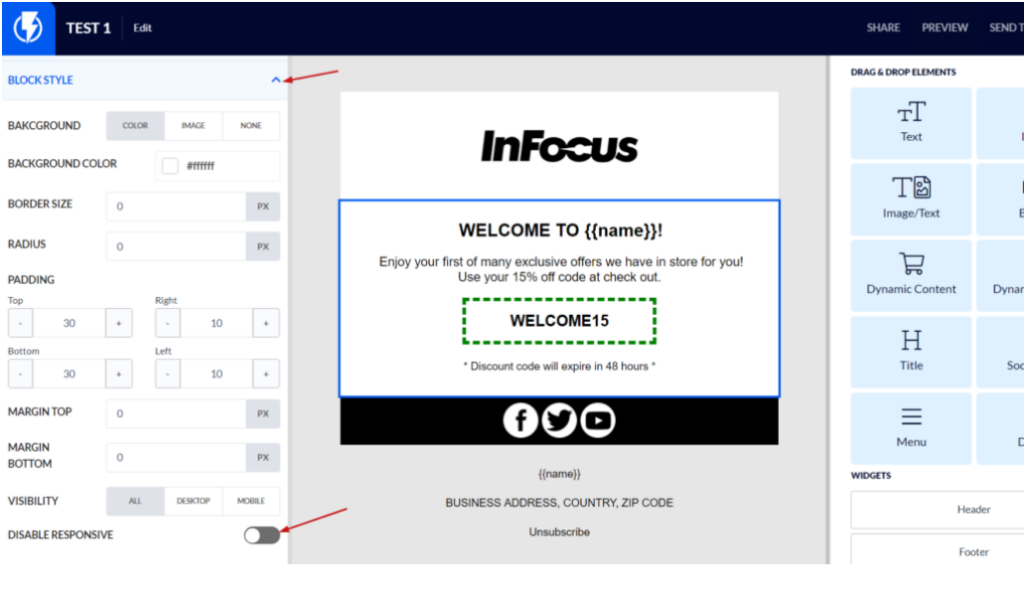 In Flashy's example above, you can choose to make your email templates responsive. That means every email you create will be comfortable to read and easy to interact with on any device your customers use, unless you choose to turn this feature off.
When your email campaigns are adapted for mobile as well as desktop devices, you should see more clicks (and therefore more sales) because none of your users will have any problems reading the content or clicking on the links you provide for them, regardless of the device they are using.
The easiest way to do that is by using email marketing software that will enable you to create responsive emails, ready for any device.
Use an Email Marketing Automation Platform
In this article, we've already talked about how email marketing software can help you increase sales by enabling you to segment your mailing list and adapting your emails so that they can be properly viewed on all devices.
But there's much more software can do in this regard, thanks to automation features that enable you to support eCommerce customers at every step of their buying journey.
In fact, marketing research has shown that email automation can help you grow your revenue exponentially.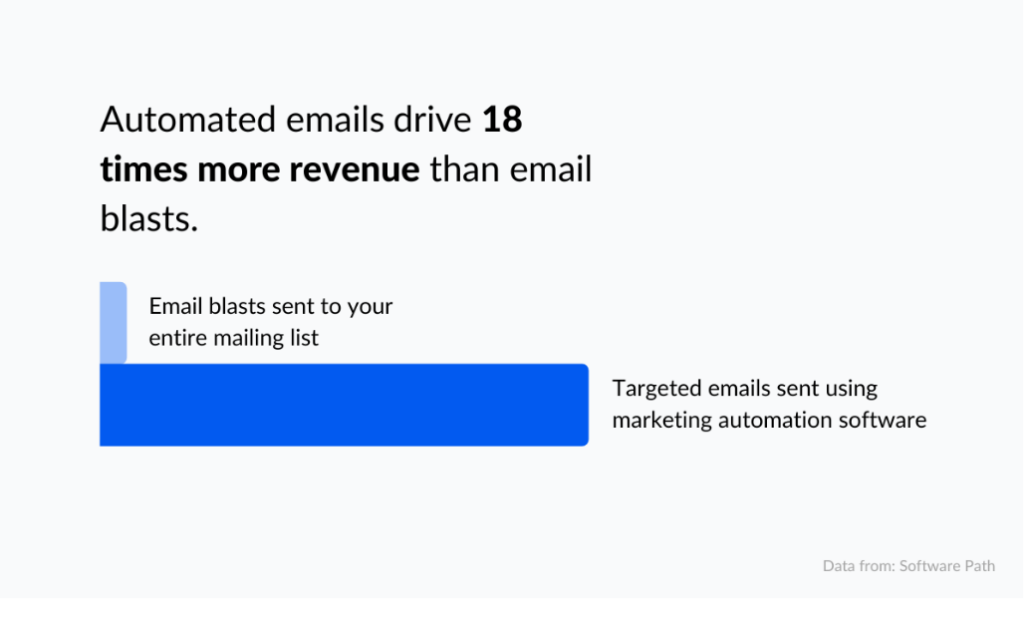 So, what does automation mean, exactly, in the context of email marketing, and how does it work?
Simply put, automation allows you to trigger targeted emails that are relevant to your customer's actions.
For example, if a new customer creates a profile on your eCommerce store, this action (or condition) can be used as a trigger for sending a welcome email, like the following: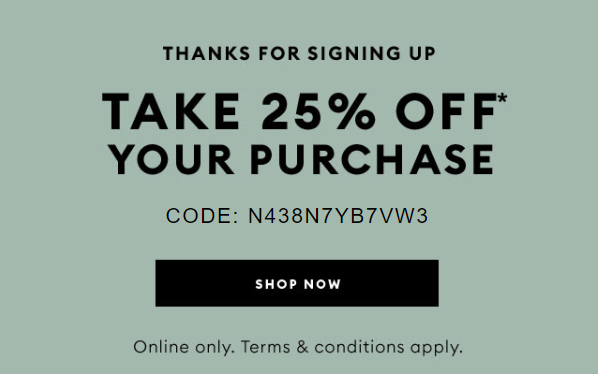 Welcome emails can help you introduce your business, showcase your brand, and maybe even tempt the customer with a discount coupon for their first purchase.
This type of email is actually one of the most opened emails you could send to your customers, with an average open rate of 68.59%.
Creating an automated email like this is very easy if you're using an email automation platform such as Flashy. Our platform was designed specifically for eCommerce business owners to be intuitive and easy to use.
All you have to do is create a new trigger for your emails and select the event that will cause the email to be sent.
Examples of triggers: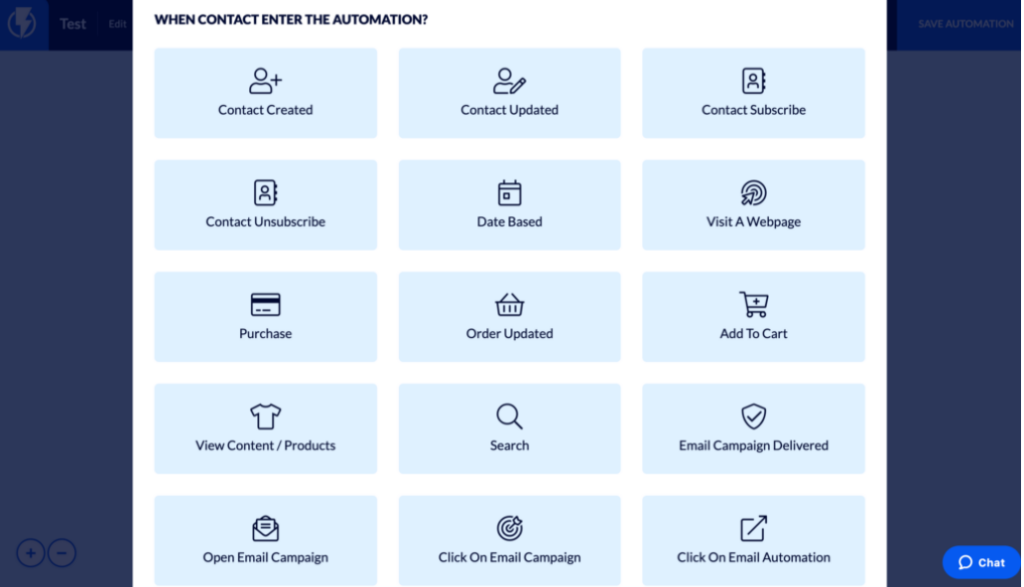 After you've filled in the details and saved a trigger, it will automatically activate every time a customer on your mailing list completes this specific action, or when certain conditions are fulfilled.
There is a myriad of options for these actions and conditions, such as:

The possibilities here are almost endless, but each automation you create can be a different way of supporting your customer as they shop or providing them with some extra motivation when they're unsure of their purchase.
So if you haven't already, it might be time to consider investing in a platform for your own eCommerce business, as it can be an incredibly powerful tool for skyrocketing your sales.
Conclusion
So, what have we learned here?
Mostly that customers aren't as inaccessible to eCommerce business owners as you may have thought, thanks to email marketing which has the potential to influence your customer's behavior and motivate them to complete their purchases.
Using the six email marketing tips we discussed in this article, you'll be able to design highly effective email campaigns that reach the right customers, at the right time, and under the right conditions, growing both your sales and your eCommerce business.
Increase Sales Today
No Credit Card Required. Pre-built Strategy.