Understanding Contact Profiles
This article explores the contact profile and the tools that are available within it.
Definition of a Contact
At its core, a contact consists of a unique email address. The email address is the main identifier, though you can add many other details to each contact profile. One contact may be added to many different lists, but remains as a single, unique contact.
Viewing Contact Profiles
To view your contacts, go to the Contacts tab in the upper-left corner of your Flashy dashboard. Hover over the tab to see a drop-down menu of options. Choose the first option: Contacts. This will display your full list of contacts.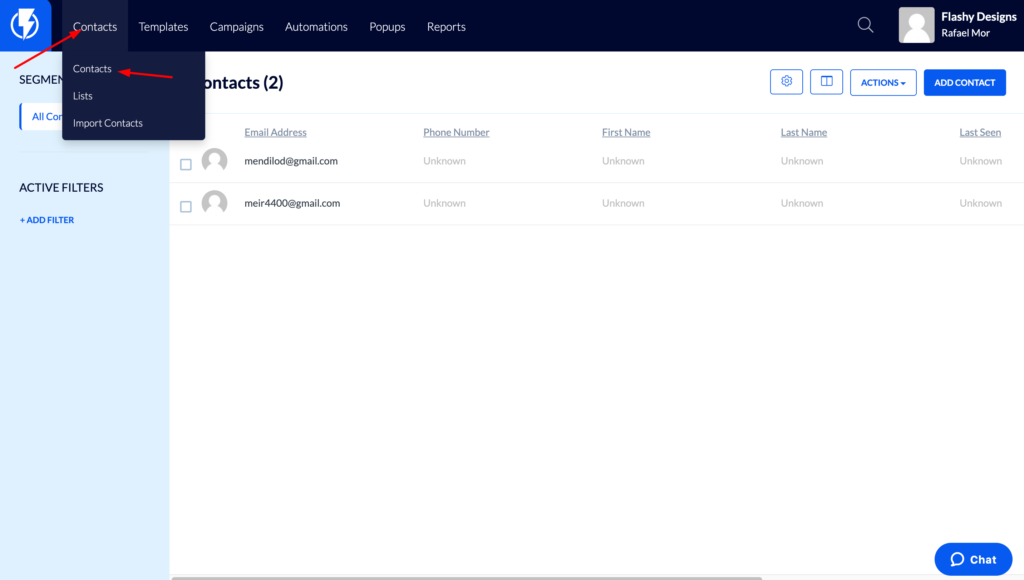 Click on a contact's email address to open their Contact Profile. Here you will find a wealth of valuable information about your contact:
Left-hand column: Contact information, personal details, and a summary of the contact's purchasing and website activities.
Center section: A history of activities related to the contact (under "Activities"), such as emails clicked and automations completed.
Center section: Contact's current list subscriptions (under "Lists").
Right-hand column: Lists of items your contact has purchased, viewed, put in their cart, etc.
Upper-right section: Notes about your contact.