How to Use Email Marketing to Reduce Cart Abandonment
PROCESS - 17 min read
Jul 16,2023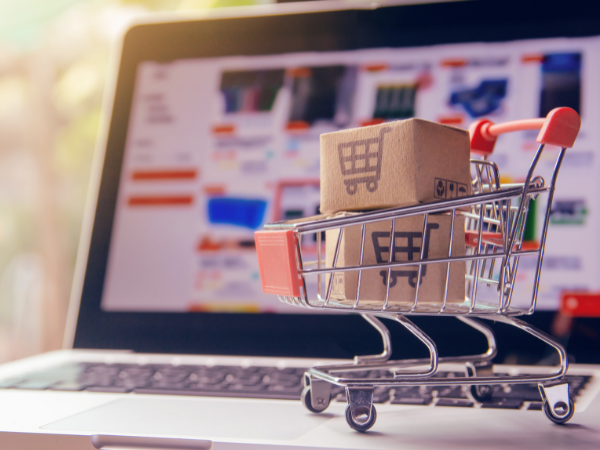 Many online shoppers have developed this habit: they click and save many items in their shopping cart and then stop short of checking out. What promised to be a grand purchase early on is now abandoned carts.
Cart abandonment is a common phenomenon in eCommerce. Reasons for cart abandonment can vary. Anything from unexpected shipping costs to limited payment options can make potential customers into cart abandoners.
It's a big headache for retailers as it can lead to lost sales and reduced customer loyalty.
But there is one surefire way to mitigate this issue: email marketing. So get ready to learn how email marketing for eCommerce can reduce cart abandonment.
What Is Cart Abandonment?
The term "cart abandonment" sounds dire, and for any retailer, it may very well be a huge problem. Cart abandonment occurs when customers place products into their online shopping carts but fail to complete the checkout process.
There are many reasons for this abandonment, but whatever the reason may be, reducing cart abandonment should be a priority for all eCommerce businesses. Not only do they need to retain their customer loyalty, but they will also want to maximize profits.
So online retailers should strive to understand the reasons for their abandonment. Let's examine the reasons for high shopping cart abandonment rates and what eCommerce businesses can do to reduce these rates.
Reasons for High Cart Abandonment Rates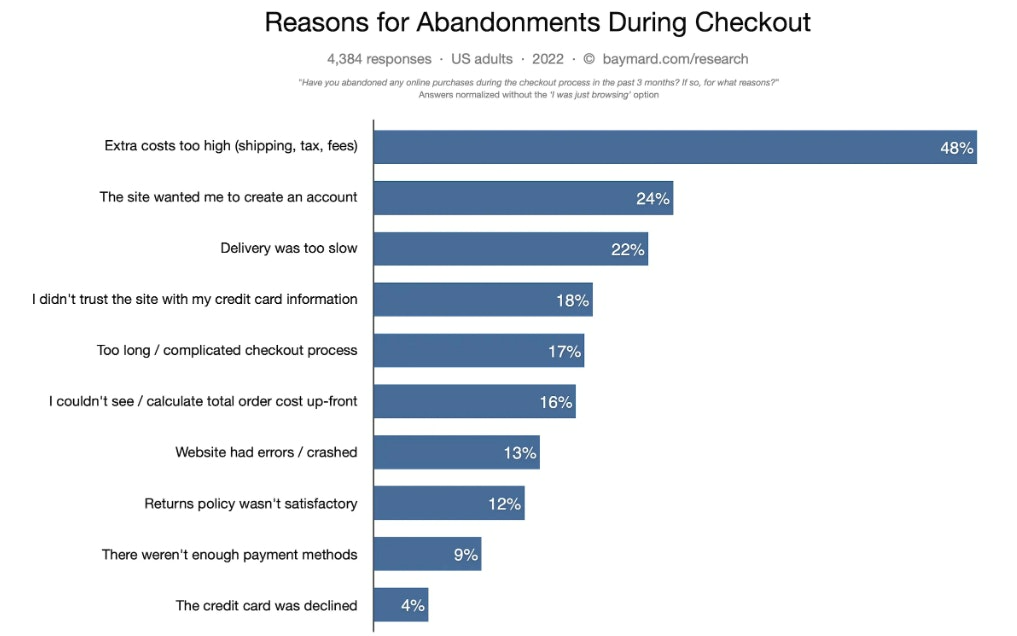 (Photo credit: Baymard Institute)
Baymard Institute has studied reasons for abandonment during checkout. According to their findings, the top 3 reasons for cart abandonment are:
48% cite high extra costs, such as shipping fees, taxes, and additional fees, as their main reason for abandoning the carts
24% blame it on the site's insistence that users create an account
22% think the delivery is not fast enough
Furthermore, other reasons for cart abandonment, per the Baymard Institute research, are the shoppers not trusting the site to be secure enough with their credit card data, overly long or complicated checkout process, and failure to show total shopping cost upfront.
In total, the average documented abandonment rate in online shopping is nearly 70% in the United States as of August 2022.
Identifying High-Intent Shoppers
Other reasons for cart abandonment may be connected with technology. Small screens without optimization in the user interface will likely force buyers to not proceed to checkout.
Meanwhile, desktop users who enjoy a website's interface in its full version have a lower chance of abandoning their carts.
But it's equally crucial for eCommerce stores and business owners to identify which ones are the window shoppers and the high-intent shoppers.
The first type of shoppers are those who are browsing around. They might not know what they're looking for or can't find their desired item quickly enough.
Window shoppers may also get distracted by things like frequent push notifications and lose interest in the product because they have little to no intention of buying in the first place.
Businesses must seriously employ tactics like strategic pop-up messages and AI-powered product recommendations to convert them into genuine buyers.
However, the latter is crucial. High-intent shoppers are those buyers who already know what they want to buy, at minimum, at the category level, if not the product level.
These online shoppers are the ones who utilize wishlists and even shopping carts to shortlist their choices.
If they abandon their carts, it's usually not because they've lost interest in the product but for specific reasons already mentioned.
So focusing on the high-intent shoppers will create opportunities to deploy email marketing strategies to recover the cart abandonment rates.
How Email Marketing Can Reduce Cart Abandonment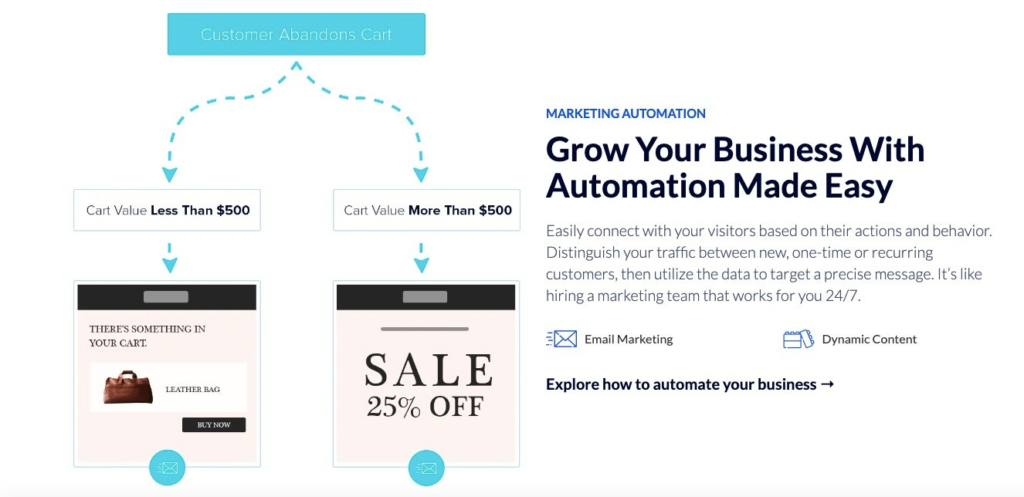 (Photo credit: Flashy)
Email marketing can be a powerful tool for reducing cart abandonment rates.
By sending targeted emails to customers who have added items to their online shopping carts but have not completed their purchase, businesses can send cart reminders about the things they were initially interested in.
Cart abandonment emails can also entice these shoppers to complete their purchases by providing incentives. Discount codes, coupon codes for first-time customers, or updated shipping options are reasons shoppers may return to their online carts.
Here are the basics of how shopping cart abandonment emails can work effectively:
Create different types of emails tailored to the customer's situation. Personalizing the emails will make the customers feel cared for and encouraged to return.
Include product recommendations and upgrades that add value to the customer's order. Offering some related products can give an extra push for them to complete their order.
Use call-to-actions in your emails so it's obvious what next steps the customer should take.
Give the customers a straightforward way to access their abandoned shopping carts directly from the email message, so they don't have to click on too many links to get there.
Give your emails a mobile-friendly interface so the customer can easily access them and follow up immediately on the go.
But even if you've got the basics down, other strategies are often necessary to ensure a successful sales conversion from a shopping cart abandonment rate.
Let's examine these strategies that, when incorporated into email marketing for eCommerce strategies, can help reduce the rate.
Effective email copy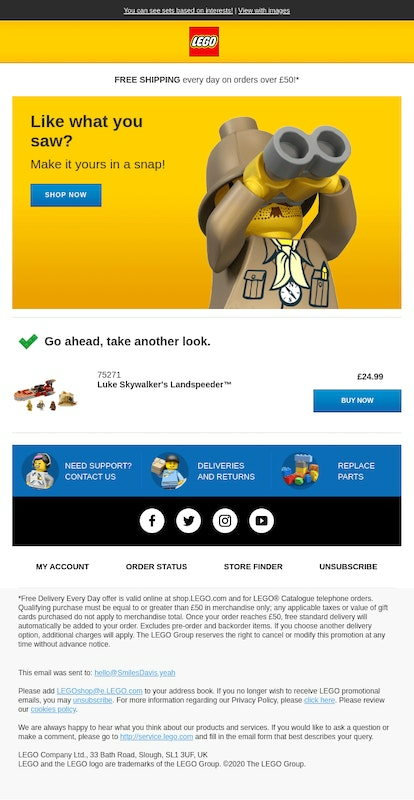 (Photo credit: reallygoodemails)
An excellent email copy may be the decisive factor in distinguishing a completed purchase from an abandoned cart. Email marketing relies greatly on effective copywriting, but a follow-up email addressing abandoned carts must be to the point and persuasive.
It's also a good idea to channel your brand voice as much as possible while maintaining a friendly tone that speaks directly to the customer.
Using humor or wit may also be effective, showing the customers there are no hard feelings for their abandoned carts. And whatever you're using to persuade customers to return to their carts, make sure it becomes the subject line.
But if there's no army of copywriters at your disposal, you can always browse for free abandoned cart email templates online, such as one from Hubspot.
However, for a more comprehensive approach to your eCommerce business, working with platforms like Flashy will yield more value for your brand.
Not only will Flashy create email templates that suit your brand image, but your eCommerce brand will also get a complete analysis of revenue, conversion rates, and more.
Include a call-to-action (CTA) button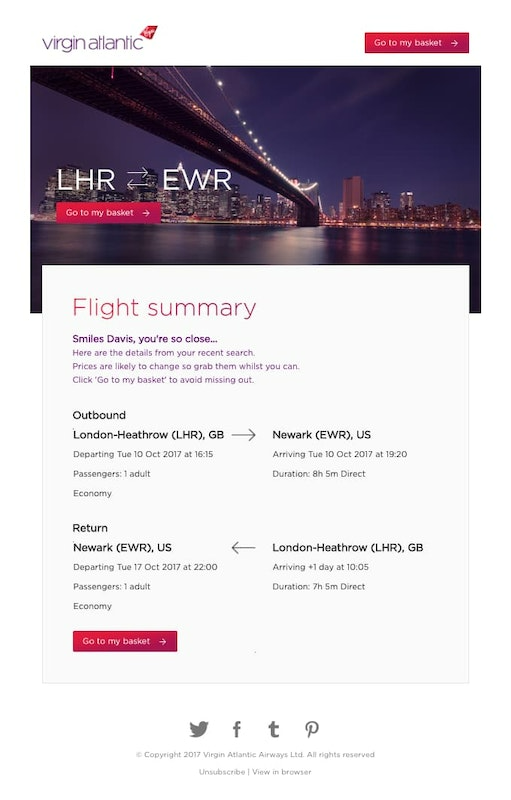 (Photo credit: reallygoodemails)
Call-to-action (CTA) buttons on your abandoned cart emails are a vital marketing strategy. It guides customers to take the action you want them to take.
Whether you use a standard CTA like "Return to Cart" or something more creative, such as "Get My 30% Off," having a compelling CTA is essential for reducing cart abandonment rates.
Key things to remember with the CTA button in your email:
Make it visible
Make it easy to understand
Make it stand out by using attention-grabbing colors and fonts
And make sure your CTA stands out in your email by using contrasting colors and fonts that grab attention.
Consider timing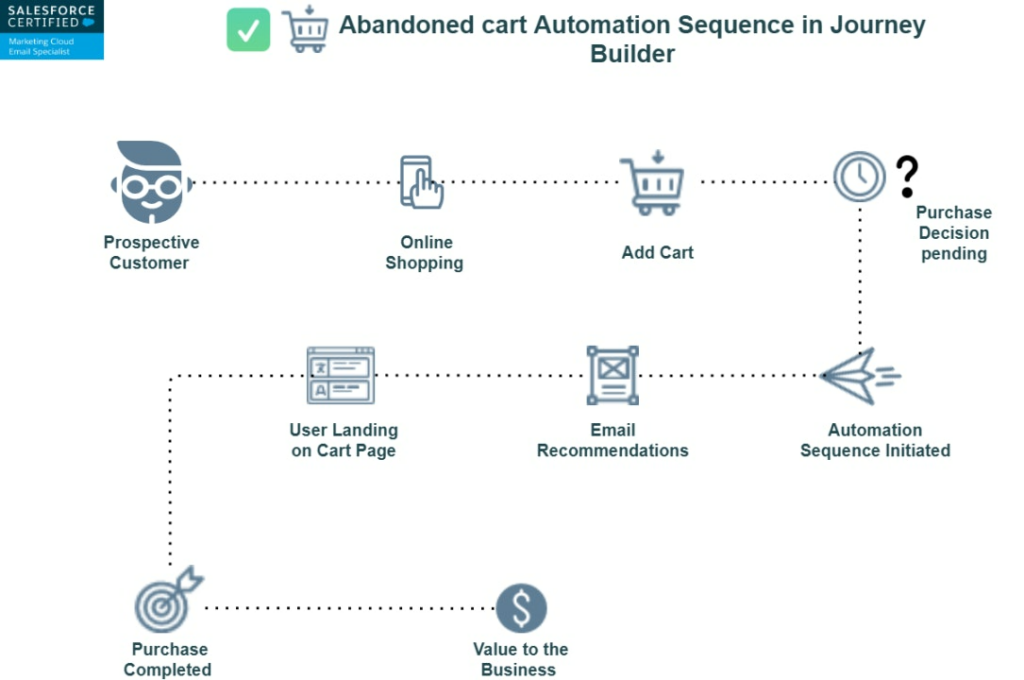 (Photo credit: Sai Hari Vavilala)
Timing is everything in email marketing. Reducing cart abandonment rates through email marketing requires accurate timing.
The sooner you send a follow-up email, the better your chances of converting customers who left items in their shopping cart.
So how long should online businesses wait to send cart recovery emails? Email marketing agency Rejoiner has come up with the answer by analyzing millions of cases.
If the follow-up email arrives at the customer's inbox after an hour, the average conversion rate is 16%.
This agency also discovered that sending two emails within 24 hours increased the average conversion rate by up to 20%.
As such, it's essential to establish a good timing strategy for your abandoned cart emails.
Try to set up automated emails triggered right after someone leaves something in their shopping cart. This speedy automation increases the chances that those customers will remember your offer and return to complete the purchase.
Use attractive images to remind customers of what they've abandoned
(Photo credit: reallygoodemails)
One of the most effective ways to reduce cart abandonment is to show customers what they are missing. To display product images attractively in the follow-up email.
Displaying visually appealing images of abandoned products will remind shoppers why they wanted them in the first place.
You can enhance these displays by telling them they now come at lower prices or with faster shipping options—show them there are attractive alternatives.
Including customer reviews and testimonials from satisfied customers may even persuade them further of their purchase decision.
Finally, highlight any limited-time deals or discounts available for a short time to capture the customer's attention and increase their likelihood of completing the order. The urgency will evoke the 'FOMO' feeling (fear of missing out).
Include social proof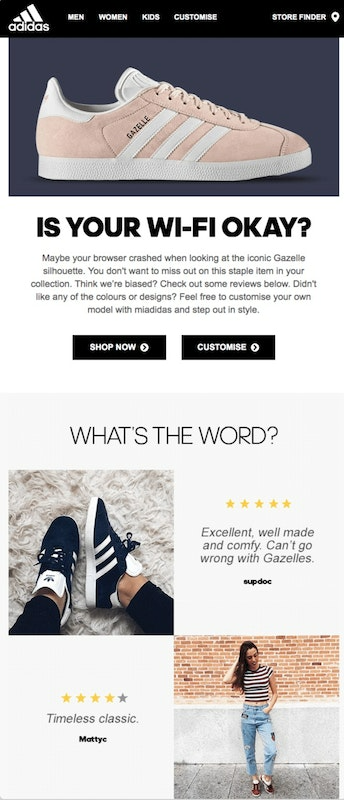 (Photo credit: reallygoodemails)
Social proof is another helpful tool to evoke the FOMO and invite the customers back to their carts. It can be incredibly potent when you allow your customers to look at the experiences of others to help them decide.
An outside opinion from similar shoppers builds trust, showing customers that they can go through the process safely and confidently as others have done.
Let's say your eCommerce business sells shoes. After a customer abandons their cart, include other customer reviews in the follow-up emails while featuring the products. The insight potential buyers glean from these testimonials may reassure them to finalize their purchases.
Suppose you can showcase awards or recognitions your brand has received to demonstrate its credibility and trustworthiness in the follow-up email. In that case, it may even further tempt the shoppers to bring the purchase to completion.
Overall Business Strategies to Support Cart Abandonment Email
Businesses need more than email marketing to solve e-commerce cart abandonment. eCommerce businesses must also consider their overall business strategies to support such emails. Naturally, these strategies will also work well if you promote them in emails.
Here are surefire cart recovery solutions you can put in the emails.
Offer deals and discounts as incentives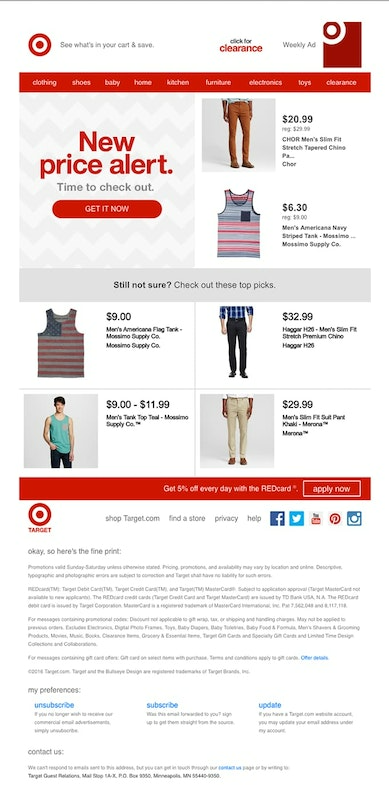 (Photo credit: reallygoodemails)
Who doesn't love deals and discounts? Every online shopper will pay attention to these incentives when shopping.
Offering incentives like deals and discounts in your cart abandonment follow-up email is a top strategy to reduce abandonment.
But a discount is not always necessary. Other deals can also be effective—free shipping, free membership, or VIP experiences can just be as effective. For example, those who abandon their cart multiple times may benefit from a free offer of loyalty rewards for completing a purchase.
You can maximize your email marketing by incentivizing them to sign up for your email list. For instance, they will get a coupon code in exchange for subscribing. As a result, these shoppers may return to their shopping cart, and you can stay in touch with them in the future.
To make the most of this strategy, keep track of the effectiveness of different discounts and test various offers regularly.
By tracking data from your campaigns and adjusting accordingly, you can maximize your chances of recovering lost sales due to cart abandonment.
Close the shipping gap.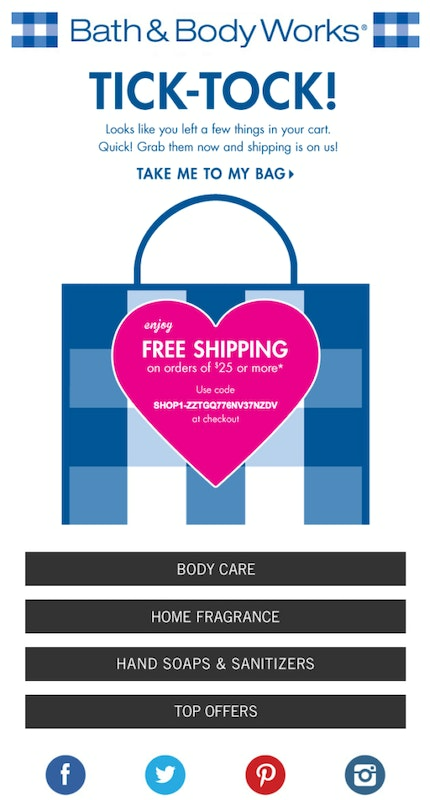 (Photo credit: SMTP)
Since exorbitant shipping costs are often a significant factor in cart abandonment, you should address the shipping gap in the email.
eCommerce businesses will do well in considering their overall shipping strategies because customers are often concerned with cost and delivery time frame, which leads them to abandon their purchase.
Of course, businesses may not always be able to reduce the shipping cost. Still, when communicating this issue via a cart abandonment email, they should be very clear about the benefits.
One example will be to clarify whether the items inside a particular shopper's cart already match a certain threshold to get discounted or free shipping.
This will encourage the shopper to complete the checkout process because discounted or free shipping only happens for this particular purchase.
If alternative delivery methods exist, such as curbside pickup or in-store pickup, communicate them in the follow-up email. These alternatives will give customers more options and reconsider their abandoned carts.
Simplify the checkout process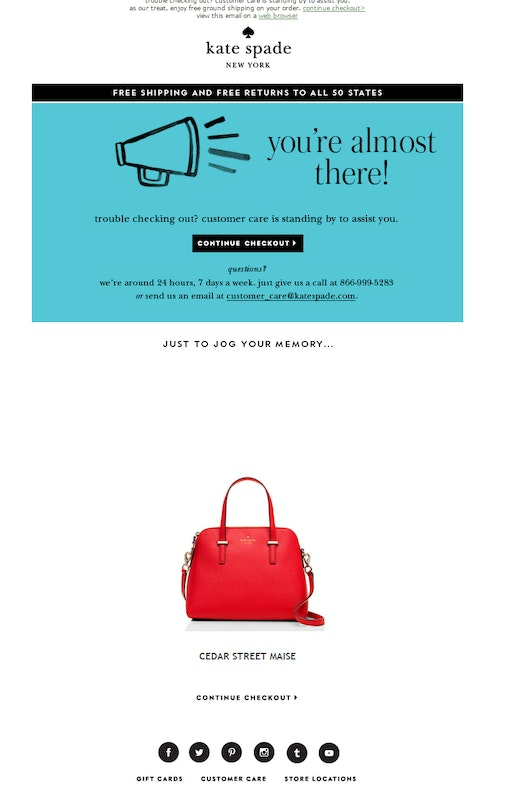 (Photo credit: Pinterest)
It's not just the price and shipping fees online businesses must be concerned about when it comes to shoppers leaving their carts behind without making a purchase.
As mentioned, a complex and lengthy checkout process can also be at fault for cart abandonment.
That's why simplifying the purchase and checkout process must be included in your email marketing strategy.
For example, show what payment options are available in the follow-up email or tell customers what total they should pay to complete the purchase. And making the checkout page accessible from the email is a must.
Avoid putting customers through many hoops by removing unnecessary fields and opt-in checkboxes. Your email should streamline the checkout experience and make it less overwhelming for customers.
Your goal should be to reduce customer frustration with the process, so consider adding a progress bar to indicate how many more steps they have to go through in the checkout process.
Simplifying the purchasing process is an effective way to reduce cart abandonment. By making the checkout page easier, customers are more likely to complete their purchase without abandoning it.
Put their cart items in reserve

(Photo source: reallygoodemails)
One final tactic to help cart abandoners return to their shopping carts is by offering a reservation service for the items in their abandoned carts.
Let customers know how long the reserved items will be available and what they will get if they return to their carts within that period. The items will still be available, but there may also be a deal on offer for that time.
eCommerce businesses can include a countdown timer in their follow-up emails to show when this reserved period will expire.
This tactic will create a sense of urgency, motivating customers to go through with their purchase before it's too late.
But reserving the items in the car may also help them feel more secure and confident about purchasing, allowing them more time to think about their choices.
Conclusion
You already know email marketing can help drive your eCommerce business. But email marketing can also reduce the cart abandonment ratio from your online business.
If you personalize the follow-up cart emails with compelling copy, CTA buttons, perfect timing, and social proof, many potential shoppers may return to their coaches.
Added with several solid business strategies like offering incentives and closing shipping gaps, these carts will no longer be abandoned.
Prepare these cart abandonment follow-up emails in advance and lose no time getting these customers back.
Increase Sales Today
No Credit Card Required. Pre-built Strategy.