5 eCommerce Email Marketing Campaigns You Should Use
PROCESS - 17 min read
Jul 16,2023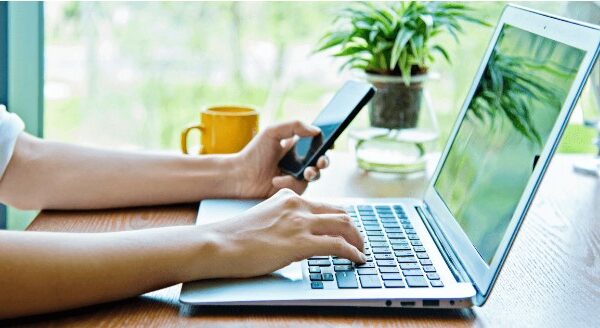 eCommerce owners can feel disconnected from their consumer base because the entirety of their business takes place online.
That makes it difficult to nurture relationships with their customers and gather feedback to advance their companies.
Fortunately, email marketing provides a solution in the form of email campaigns that support, engage, and delight customers in every step of their journey with you.
If you properly set up these campaigns, you'll build stronger relationships with your customers and have better sales results.
So, in this article, we'll tell you all about the five most important email marketing campaigns that should definitely be a part of your business strategy.
We're starting, of course, with the welcome email series.
Welcome Email Series
The key to a great relationship with your customer is creating personal connections and making sure your brand stays top of mind.
A good way to start off this relationship is by triggering a welcome email sequence that will help you greet the customer, exchange valuable information, and introduce them to your company.
What welcome emails have is one of the highest opening rates of any marketing email type, meaning this campaign might be your best chance to activate and engage a new customer.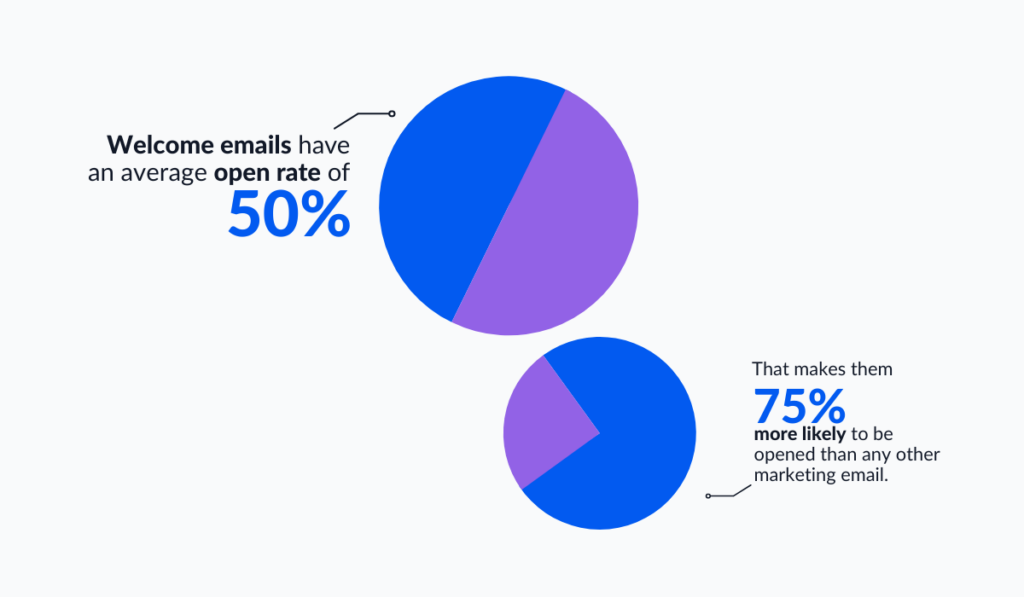 So what kind of messaging should this campaign actually contain for maximum impact?
Here are some ideas:
An email greeting the first-time customer and setting expectations.
A message to remind and encourage the customer to complete the account creation process if they haven't completed it.
An email with useful information and FAQ, such as product information, perks for loyal buyers, and shipping procedures.
A small gift, such as a discount coupon to motivate a first purchase.
Let's have a look at a welcome email from a hair cosmetics shop, Suntouched.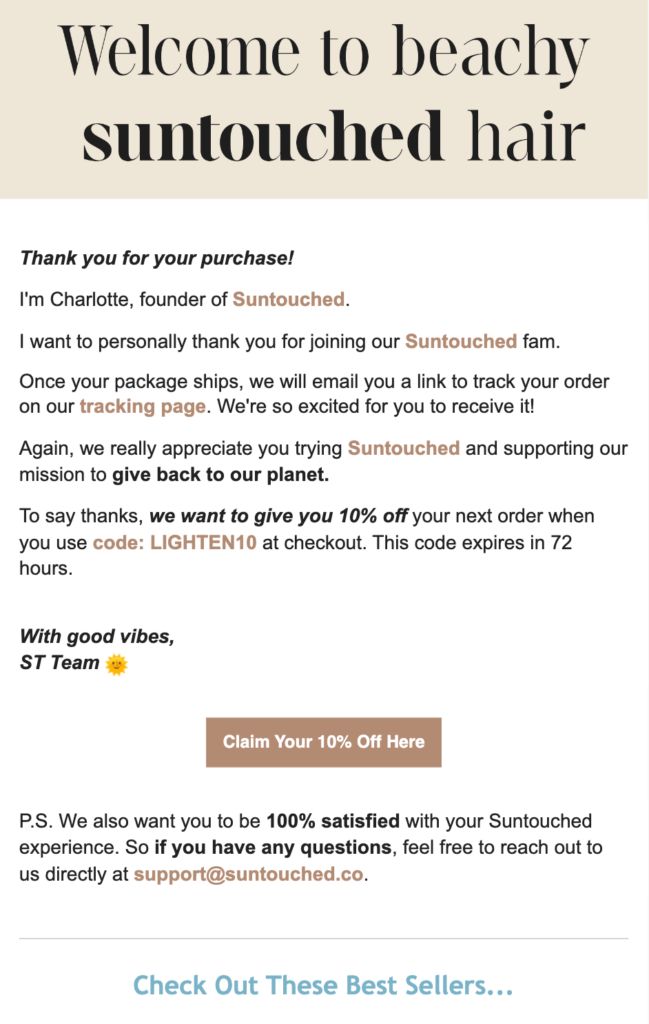 This email does a few things well: it personalizes the brand because the founder welcomes the shopper personally, sets expectations for the shipping of the purchased product, encourages a repeat purchase with the discount, and even showcases the best-selling products (where that discount can be applied).
A campaign like this is easy enough to create, automate, and trigger if you're working with quality email marketing software that knows everything about your customers.
Flashy is an advanced email marketing tool that you can use to build relationships with new users.
All you have to do is create automation for new contacts depending on the criteria you want. You can trigger the campaign based on various factors:

Contact Properties
Website Activity
Store Activity
So, for example, you can target those that have created an account in your store and viewed a certain page and tailor your email campaign strictly to them.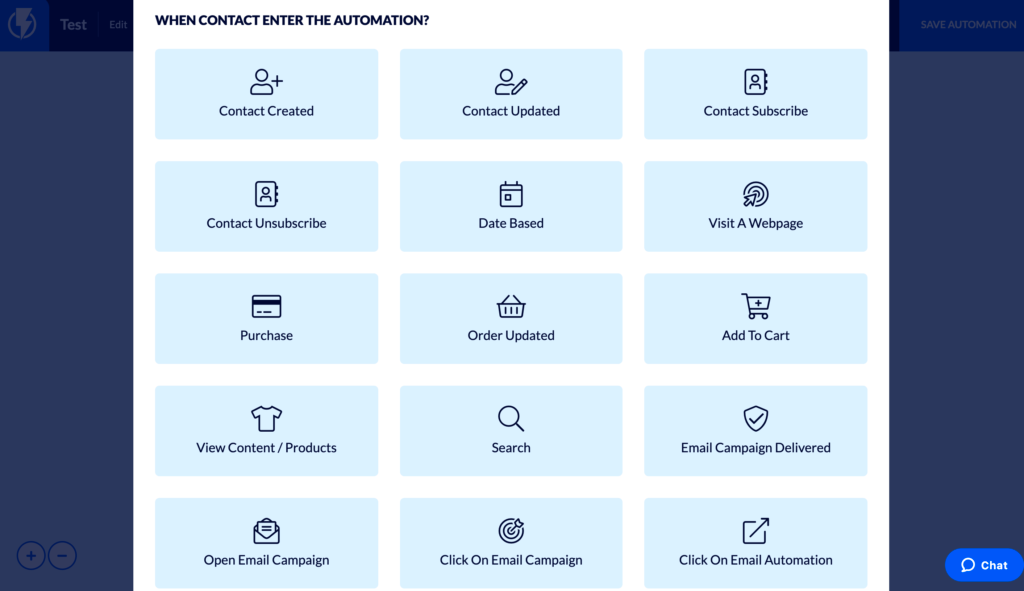 When you choose your triggers, you'll also need to create an email template with the content you want to send to the recipient so that all of your new customers are welcomed with the same set of information needed for a comfortable shopping experience.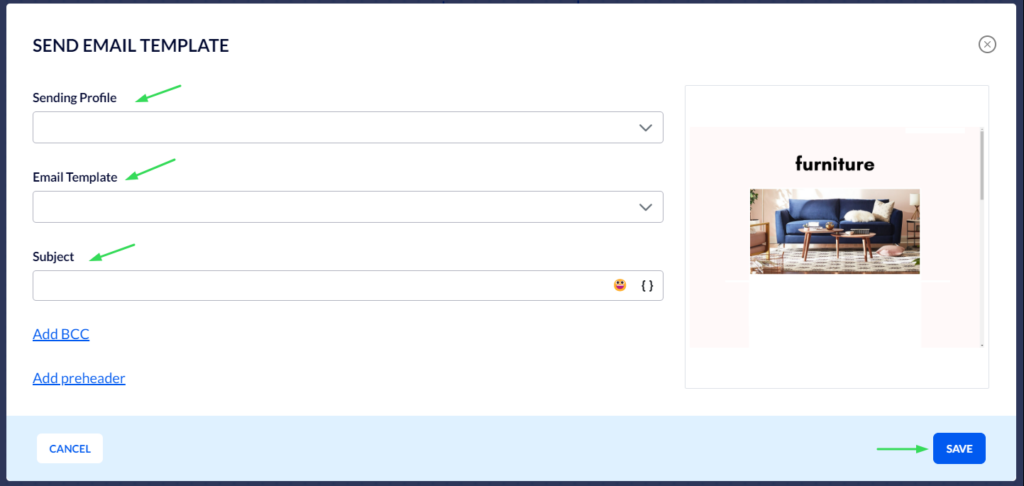 If you're using Flashy's marketing automation software, this step is made even easier with pre-made templates. You just have to adapt them to your brand and unique message.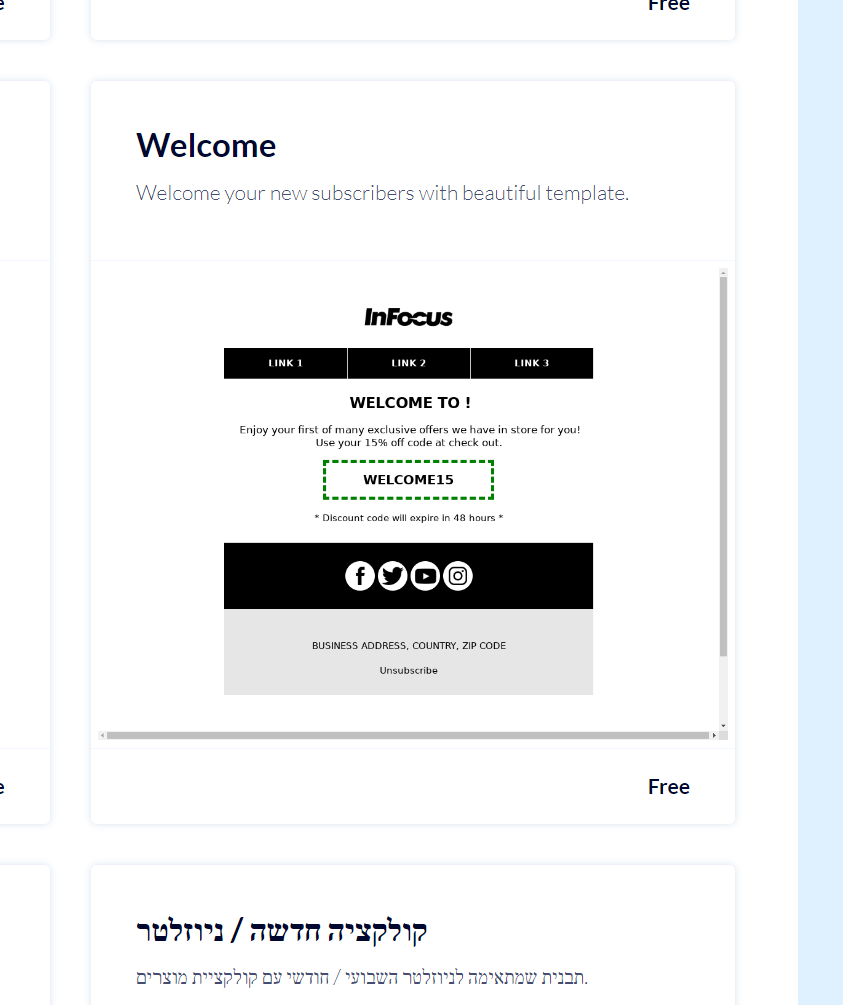 You can keep adding templates to your welcome campaign and setting different conditions and triggers to form an entire journey on which the customer will become more connected with your brand and spend some more.
Your welcome email series is probably the most impactful campaign you will ever send to your customers, so make sure you don't skip it and make it as informative, supportive and appealing as possible.
Promotional Email Campaign
After you have secured the first purchase from your customers, you can keep building your relationship and earning their loyalty by sending offers and exciting news their way.
Some eCommerce operators get a bit squeamish with promotional campaigns because they worry that they'll put customers off by getting in touch too often and bombarding them with communications they might consider irrelevant.
However, the reality is that customers want you to keep those lines of communication open and send them offers that benefit them.
In fact, most customers expect your emails more than once a month.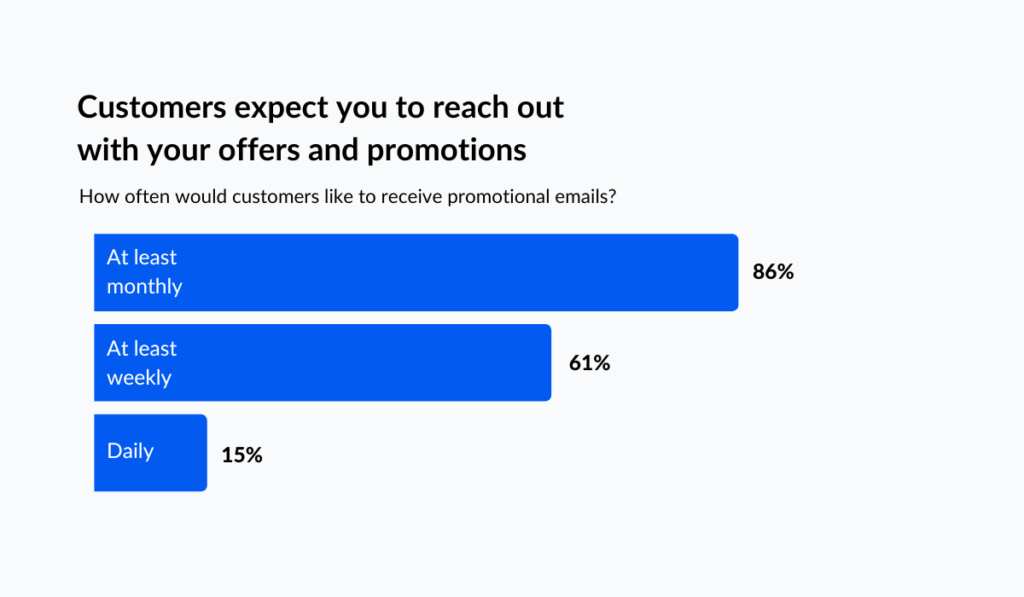 And with the value promotional emails can bring to shoppers, it's really not surprising they feel this way.
This type of campaign allows you to broadcast to your audience that a new collection of products has just dropped, keeping them informed about the products they desire or need.
You can also tailor your campaign and segment your audience based on their purchases and page views (if you used advanced software tailored specifically to eCommerce, like Flashy) so it feels like you really understand them.
Here's an example of an email showing an upcoming new collection of makeup coming. Tarte Cosmetics is doing good work building the hype around its new products.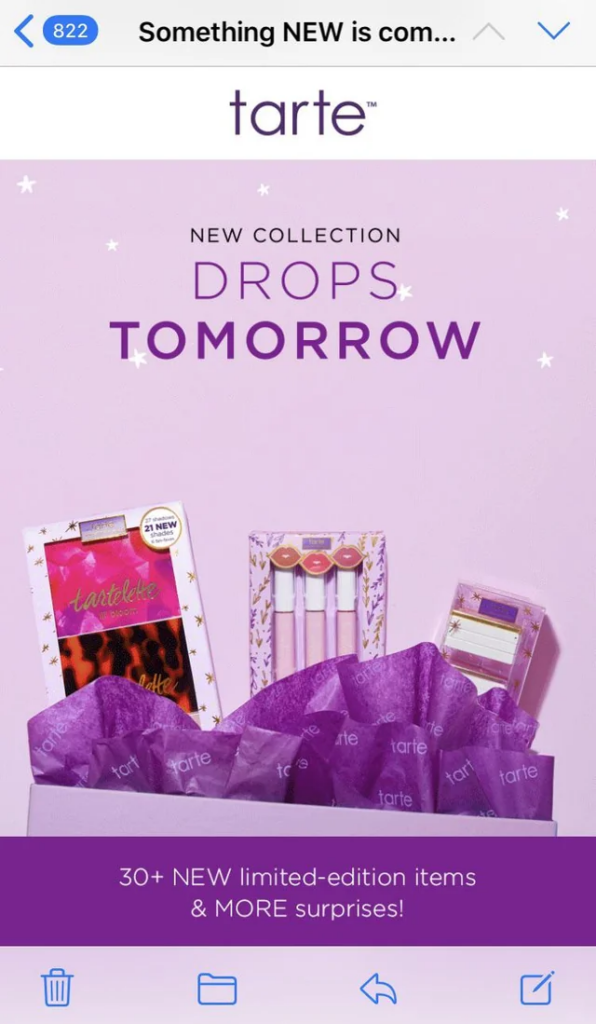 This campaign also enables you to treat your customers with discounts and special offers and celebrate important dates, such as their birthday, Christmas, or the anniversary of their first purchase.
That's another way to keep your relationship strong and earn more from every customer. Just look at the email below: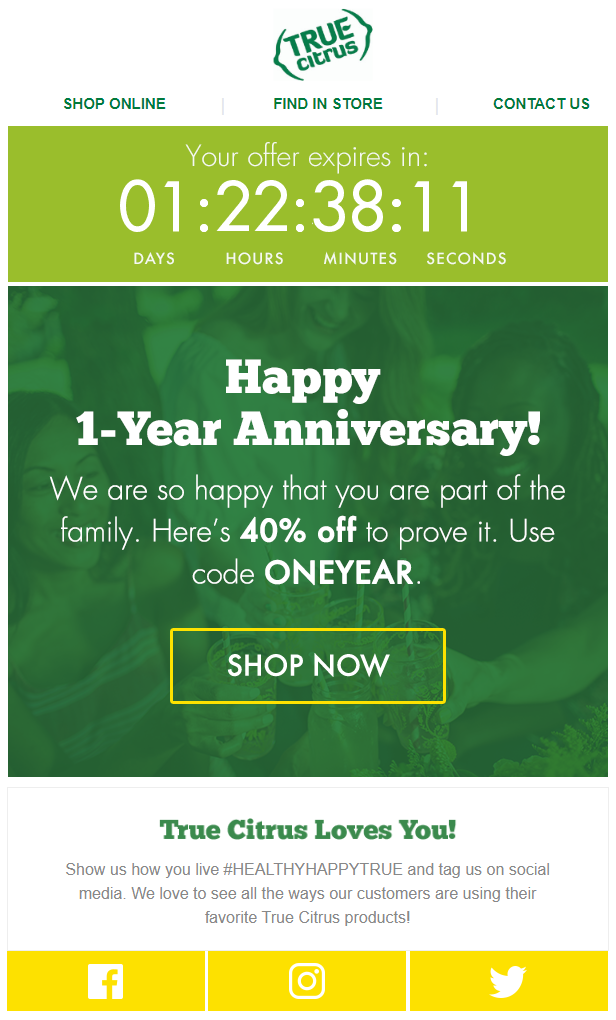 Wouldn't you be glad if a company remembers your first shopping with them and celebrates it? And awards you with a discount? Sounds good to me!
One more key insight we can draw from the above-mentioned statistic is that there are significant differences between members of your audience regarding the frequency of promotional emails they would prefer.
Your most prized customers wouldn't mind receiving promotions in the inbox every day, while others would respond better to a monthly offer.
Getting in touch with the former only once a month can cause you to miss out on easy revenue while overwhelming the latter could lead to your emails ending up in the spam folder.
Again, segmentation holds the solution to this conundrum.
Using your marketing software, you can divide your audience into segments according to a variety of behavior metrics or characteristics.
For example, you can form a segment of customers who have made a purchase recently and contact them more frequently with your promotional emails and another for customers who haven't visited your website in more than six months and prepare a more filtered campaign for them.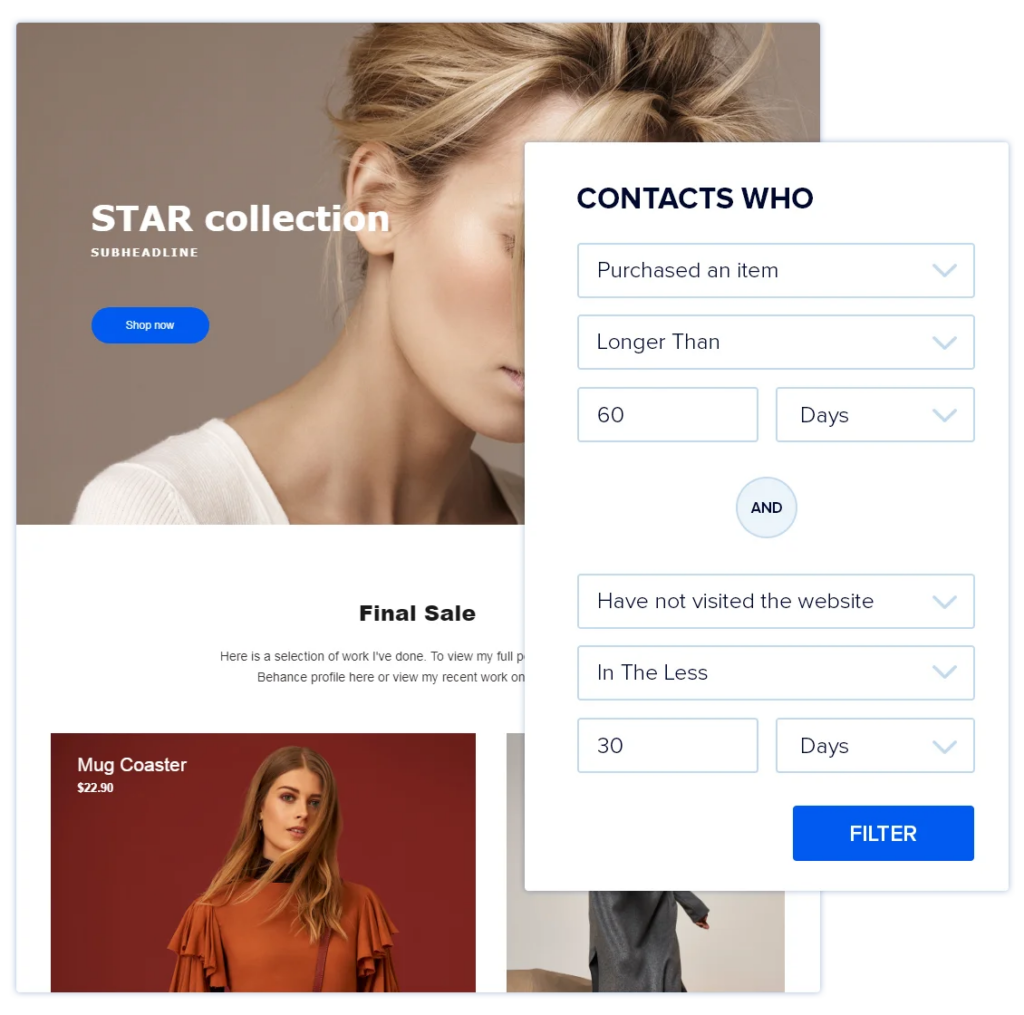 Long story short, promotional email campaigns are mutually beneficial. They allow customers to take advantage of your special offers and get the first pick of new products.
They also enable you to capture revenue and inspire loyalty among your consumer base.
No marketing strategy should be without them.
Cart Abandonment Campaign
In eCommerce, customers change their minds all the time about their purchase or decide at the last moment that they need more time to think.
But that doesn't necessarily mean these customers don't want the item. Actually, it can mean a lot of things:
The item was a little too expensive for them.
They were interrupted in their shopping activities.
They decided to think about the purchase and just forgot about it.
You can count these failed purchases as revenue lost, or you can do something about it.
How? By including a cart abandonment campaign in your marketing strategy.
You can view cart abandonment emails as a last effort to bring your customer to their goal (completing a purchase) even after they've left your online store for whatever reason.
The contents of the email can be whatever you consider is likely to bring the customer back to their cart. You can send a simple reminder that they left something in their cart, or send a discount coupon to provide that extra little bit of motivation they need.
Here's a clever example from Casper.
The headline "Come back to bed" is sure to draw the recipient's attention, and it's highly relevant to the type of product they left in their cart (a pillow).
This is just a simple reminder email, but the extra push to complete the purchase can be found in the inclusion of a product review which legitimizes the purchase and promises to solve the pain point the customer is likely experiencing.
But how do you know the difference?
Or, how do you know if you should send a reminder or something to sweeten the deal, such as a discount code, even if it means sacrificing a part of your revenue?
A suitable method would be to set some conditions for this campaign.
For instance, if this is a high-value purchase, offering a discount to complete the purchase might be worth it. If it's a smaller item, then a reminder makes more sense.
Setting these kinds of triggers is another thing you can do with marketing software that has advanced automation capabilities. Flashy can do this for you.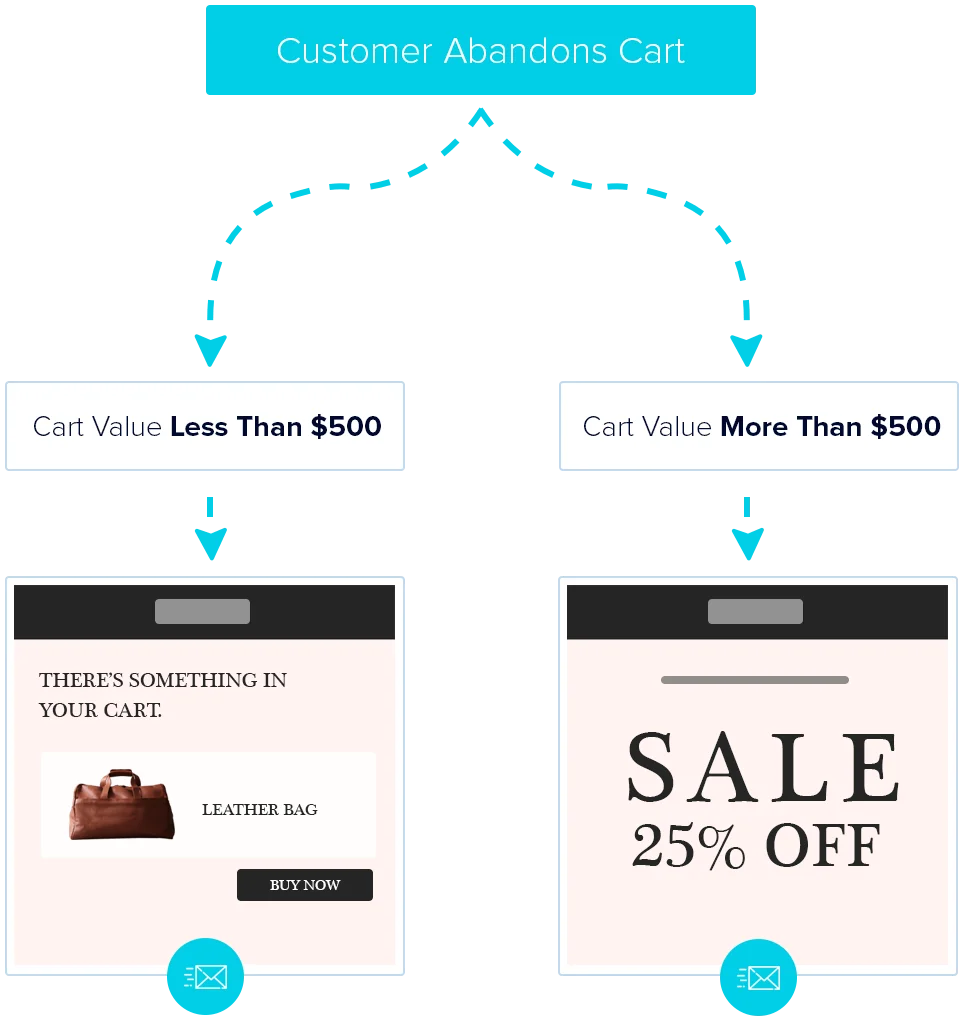 Just set up a condition that needs to be fulfilled when a customer abandons their cart and the email with the appropriate messaging will automatically be sent every time this happens on your eCommerce store.
Not all those who abandon their carts are lost to you. Set up a cart abandonment campaign and help your customers finish the journey they started.
Re-Engagement Series
Maintaining a high engagement level with your consumer base can be difficult. Some of it will inevitably lose interest and put your eCommerce store out of their mind.
But that's okay. You just need to know who those disengaged shoppers are.
If you use marketing automation software, you'll have that data, and you always have the option of sending a re-engagement email series to remind your estranged customers that you've got just the right stuff for them.
Re-engagement can be achieved in more ways than one and, for maximum effect, you can actually apply all of them on every lapsed customer.
A good series might include:
Some targeted product suggestions (for example, products complementary to the ones they already bought).
An enticing discount to bring the customer back to the shop.
A CTA to update marketing preferences (you don't want to keep contacting the customer if they've churned completely from your brand).
As always, the discount coupon will probably be of the most help here. People just can't resist a good deal, and this small price reduction might be just what they needed to buy that item they were eyeing in your online store.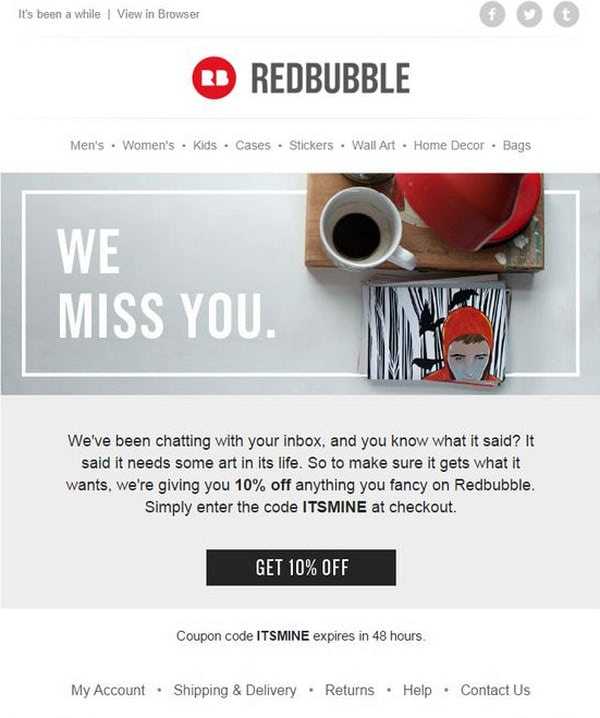 By the way, if you're wondering how it's possible to simultaneously reach out to multiple customers with the same email but a unique coupon code in each one, the answer is dynamic coupon codes, which is one of the features of Flashy's marketing automation software.
This powerful tool lets you inject a unique coupon code from a coupon catalog so that every recipient gets their own code that can only be used once.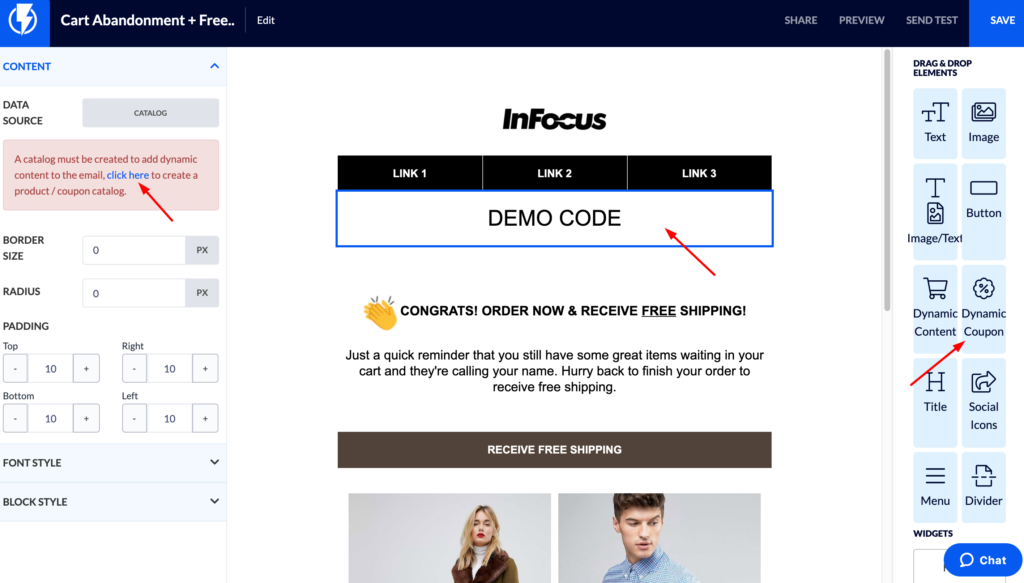 That way, you're able to re-engage customers who have been inactive for a while without any risk of the coupon being shared or duplicated in any way.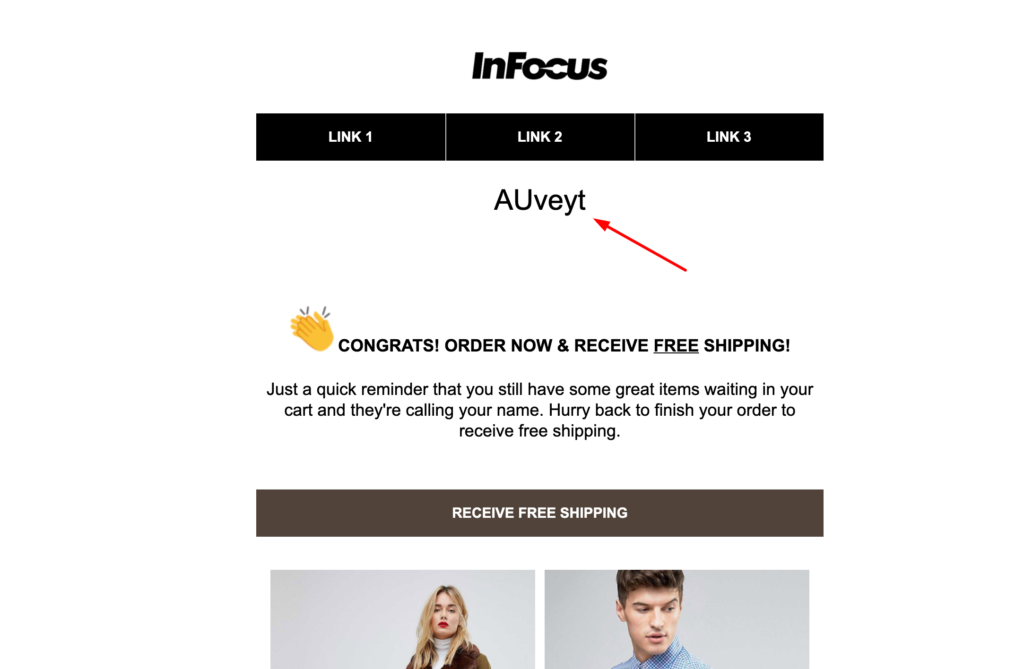 Remember, the difference between a lost customer and a temporarily lapsed one lies in an enticing, intelligently structured re-engagement campaign.
Win your customer back with a gentle reminder of your offer and an attractive discount coupon.
Feedback Email Campaign
Gathering customer feedback is always useful. It's a mutually beneficial business activity. It enables your audience to participate in the shaping of your company while also providing you with ideas for improvement to hone your services and find out what your best products are.
In that sense, feedback collection can be considered a part of marketing because it shows your customers you care about their needs and want to meet them.
And there's no better way to collect this kind of feedback than with a strong email campaign.
Customer satisfaction emails have a fair response rate, which shows that consumers like to share their opinion.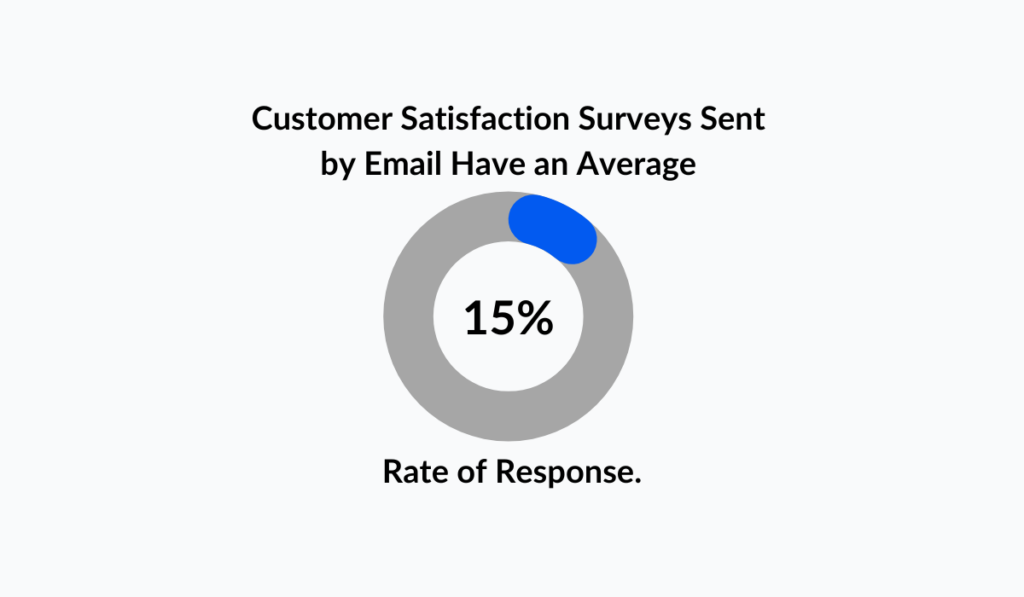 As eCommerce businesses usually have large mailing lists, 15% also means that you can gather more than enough dependable data to confidently make decisions.
This campaign can be centered around your products or the quality of the shopping experience, as both of these areas can be improved with ample customer feedback.
So, for example, you can ask a customer how they feel about a product they recently purchased and whether or not they are satisfied with it.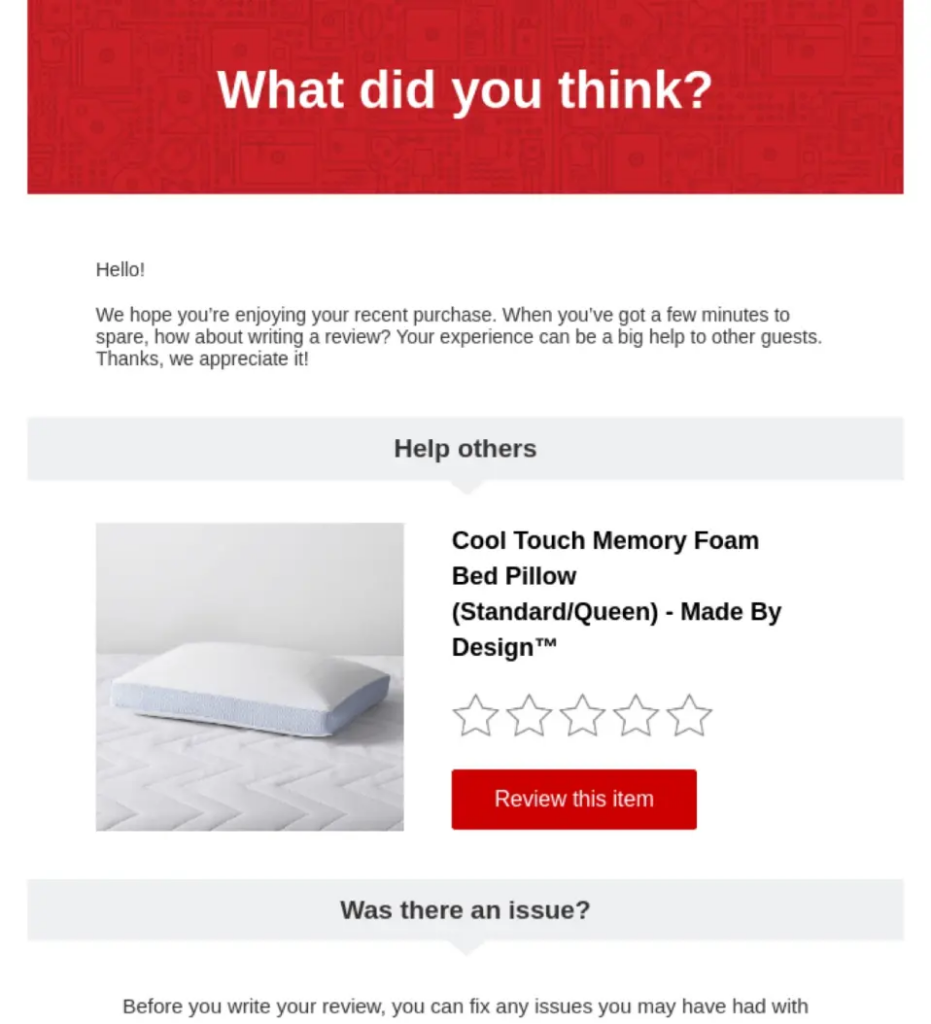 This should give you an insight into whether this product is worth stocking or if it's actually harming your business because buyers are unhappy with it.
As for your services, it's definitely worth investigating what kind of experience your customers are having. So, for example, you can fire off a feedback request after the product has been delivered or after the customer interacts with your customer service team.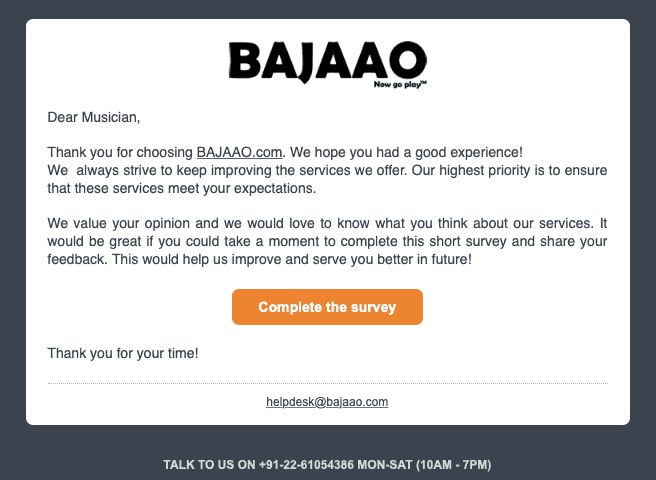 This will be one of the shorter marketing email sequences you'll be sending and it usually comprises a feedback survey and a thank-you note to those who completed it.
Customer feedback is solid gold for eCommerce owners who are looking to attract audiences, satisfy consumers, and grow their businesses. So don't forget to include this campaign in your strategy.
Conclusion
Every email campaign we talked about in this article helps you improve and develop your eCommerce business in a different way.
Some facilitate relationship building and customer care, while others help you capture revenue and find opportunities for improvement. But in the end, they all lead to the same goal: having more happy customers that love to support your brand with purchases.
Best of all, all of these campaigns take very little time and effort on your part, thanks to email marketing software like Flashy that helps you segment customers, create stunning emails, and automate entire campaigns with ease.
So use the power of email marketing to skyrocket your eCommerce business and build relationships for life.
Increase Sales Today
No Credit Card Required. Pre-built Strategy.