Popups Reports Overview
Reports are essential to understanding your customer engagement and improving your marketing. Flashy features information-packed popups reports that are clear and easy to navigate. This article provides an overview of the report features.
To get started, go to Reports in your Flashy dashboard at the top of your screen. Click on "Popups" in the dropdown menu.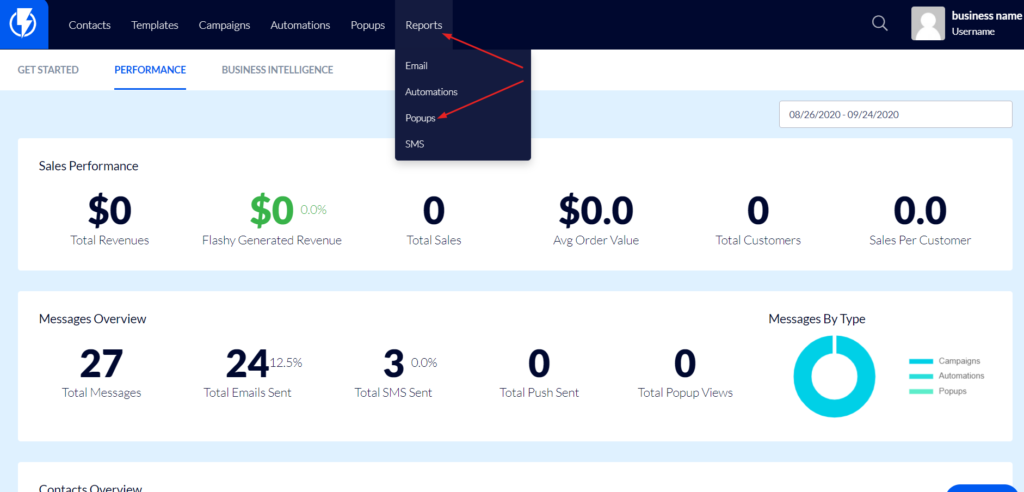 This screen is your center for Popups reports. Select the time period you want to include in your report by adjusting the date range in the upper right-hand corner.
Quick Overview
Get the overall numbers on your popups with the following categories:
Total Active - Popups that are currently active.
Total Inactive - Popups that are currently inactive.
Views - Number of people who have viewed the popups.
Conversions - Number of clicks on the popups (to upsell or redirect the customer to a different page).
New Leads - Number of people who left their email address or other personal information on the popups.
Popups
This is a list of all of your popups, both active and inactive.
Winners By Objective
This section compares your popups so you can see which ones performed the best, saving you loads of time and effort! Easily view which popups came out on top in the following categories:
Most Views
Most Conversions
Highest Conversion Rate
With this information, you can recreate what worked best for future popups.
Now that you've got a good overview of popup reports, let's take a look at reporting for individual popups here.