How To Create a Popup that Pops Up After Adding a Certain Item to the Cart
Upselling and cross-selling will allow you to offer your customer greater value, and thus to also increase the value of the purchase.
An upsell popup will offer customers products similar to the ones they are interested in purchasing, only upgraded. For example, if a customer is interested in purchasing a certain computer, you can try to interest them in a more advanced model.
A cross-sell popup will offer customers products that are complementary or somehow related to the ones they purchased. For example, you may offer ink cartridges to a customer who has purchased a printer.
Creating a Popup Activated when a Certain Item is Added to the Cart
Click "Weblayers" on Flashy's top toolbar.
Click the blue "Create Weblayers" button in the upper right-hand corner.

For the popup's goal select "Impressions".

Select the desired template from the wide variety available.

Enter a title for the popup and click "Next step".

You are now in the popup editor – here you can design the popup and its content (click here to read about the popup editor options).

For instance, you may set a button in the popup that, when clicked, will forward the customer to the complementary product's page. 
When you have finished designing the popup, click "TRIGGERS & TARGETING" at the top of the screen.
TRIGGERS & TARGETING
Under "Display to" – check the checkbox for visitors and contacts.
Select if the popup is to be displayed on computer desktops / mobile or both.
Under "When To Display" – select when you want the popup to be activated (Display after adding product to the cart).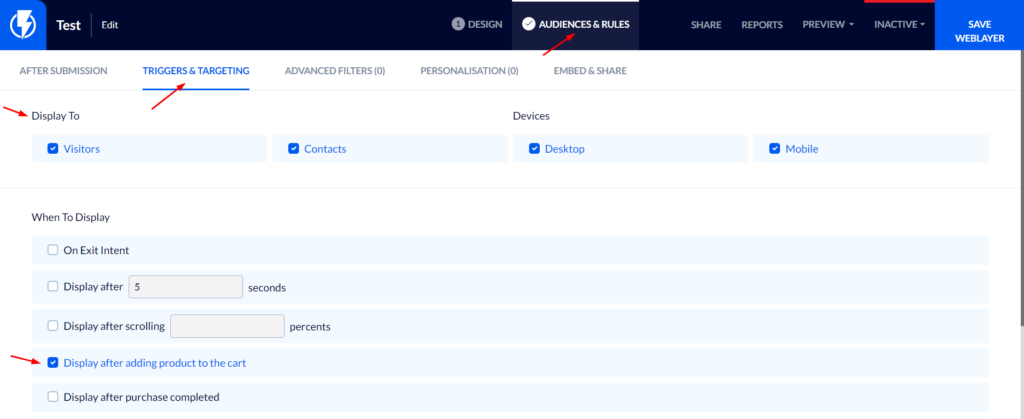 Under "Frequency" the recommended selection is "New & returning visitors".
Under "Sequences" – select according to your preferences.
Under "How To Count Settings" – select "once a visitor has seen the first screen of the popup".

ADVANCED FILTERS
You can select the pages that the popup may be activated on.
You can set the popup to be activated only if the URL of the page that the visitor is on contains a certain string. 

Finally, click "Save Weblayer".
To activate a popup, you must change its status to active at the top right-hand side of the screen.
You may deactivate the popup at any time by switching the switch back to "Inactive".