Using Google Fonts
Choose Your Look with Google Fonts
The look and style of your website is an intrinsic part of your business. It sends a strong message to your customers about who you are, what you do, and what you can do for them. They should get that same feeling from your email communications through a look that is consistent with your site.
That's why Flashy gives you the ability to access the same Google Fonts that you may already be using on your website and apply them to emails you send to your customers. In every space of our email templates where live text is used, you can choose to use Google Fonts or general fonts that exist on most operating systems.
Not all email clients support Google Fonts. If yours does not, it's important to choose the Fallback Font setting, as described below.
How to Utilize Fonts in Your Email Templates
To get started, go to Templates in your Flashy dashboard at the top of your screen, and open up an email template of your choice.
Click on the text element in the template where you want to apply the new font, or drag and drop an element in from the text editor on the right-hand side.
In the left side menu, click on "Font Style" to open up this section, and review the options below.
The "Family" category contains the default font and a list of fonts that already exist in the system. Some are from Google Fonts and some exist in every operating system. You can choose any of these fonts for use in your template.
Set a "Fallback Font" if desired. This means that if you select a font in the "Family" list to use in your template, but it doesn't exist in your operating system, this fallback option will automatically be used instead.
If you want to use a font that doesn't exist in the "Family" list, go to the Google Fonts website - fonts.google.com - and browse their library to find just the right one. Turn on the Custom Google Fonts toggle in the left side menu. The "Family" select box will then become open text and you can type in the name of the Google Font you've chosen. You may now use the font in any text element within the template.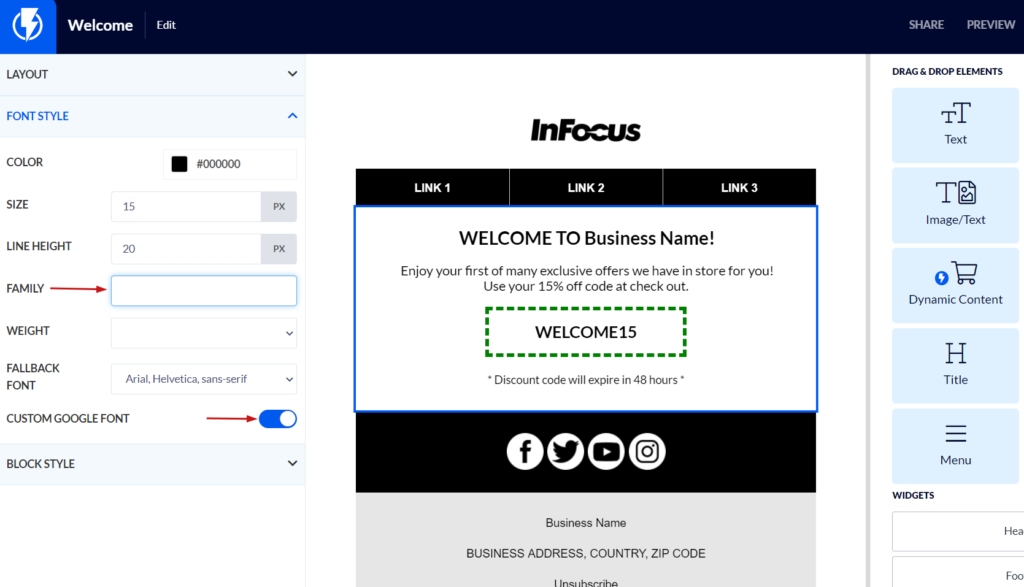 Having the freedom to choose your own style is a wonderful thing. Flashy opens up the wide world of fonts so you can find the look that's just right for your emails!